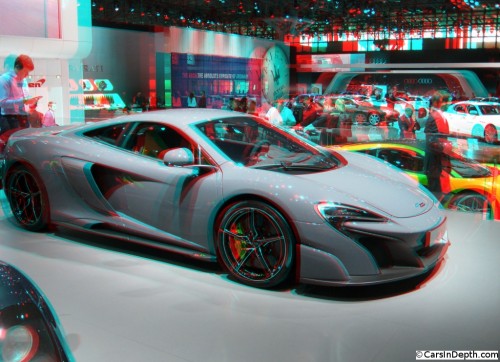 To view the entire photo gallery in 2D or your choice of stereo 3D formats, click here for a Flash player , here for an HTML applet, or here for an HTML5 viewer
I'm not sure what the LT stands for in McLaren's nomenclature. I'm guessing that it's more likely to mean "lightweight, track", rather than "Lawrence Taylor". The 675LT is the most powerful, lightest version of McLaren's Super series of cars based around the 650S (itself a cosmetic and performance upgrade of the previous 12C). The version they brought to the New York Auto Show was painted in a subtle and quite beautiful dove grey, a color that complements the car's shape very well. McLaren communications director Wayne Bruce told me that he picked out the color for the show car himself. Well done, Mr. Bruce, well done.
Over the years it's become pretty much standard form for midengine sports cars to have their engines exposed, either al fresco or under glass or clear plastic. The McLaren 675KT has a tempered glass engine cover with beautifully cut and ground vents that makes some rather notable Ferrari's plastic engine covers look cheap.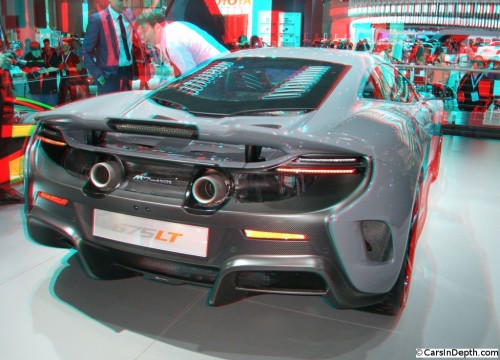 To view the entire photo gallery in 2D or your choice of stereo 3D formats, click here for a Flash player , here for an HTML applet, or here for an HTML5 viewer