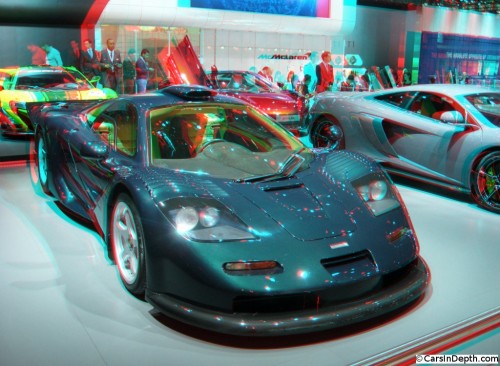 To view the entire photo gallery in 2D or your choice of stereo 3D formats, click here for a Flash player , here for an HTML applet, or here for an HTML5 viewer
When the McLaren F1 went racing, it was very successful even though Gordon Murray never meant for it to be a competition car. That's because it was very much a "Formula One car for the road". In 1995, the F1 GTR dominated the 24 hour race at LeMans, taking 1st, 3rd, 4th, and 5th place finishing positions. However, competitors kept pushing the envelope, making race cars with only the barest homologation. To respond, McLaren decided to build a car meant for racing, with all the aero advantages late 1990s tech could provide. To make it legal, the factory built just three road cars with the "longtail" body and revised front bodywork. The result was that in 1997, the F1 Longtail won five of the 11 races of that year's FIA GT Championship, and finished first and second in its class at the 24 Hours of Le Mans.
Of those three homologation special road cars, two were bought by private customers with the original prototype remaining in factory hands. To celebrate the introduction of the new 570S model and the Sport series, McLaren brought out the "XP GT" protoype, the rarest McLaren road car in existence.
To view the entire photo gallery in 2D or your choice of stereo 3D formats, click here for a Flash player , here for an HTML applet, or here for an HTML5 viewer