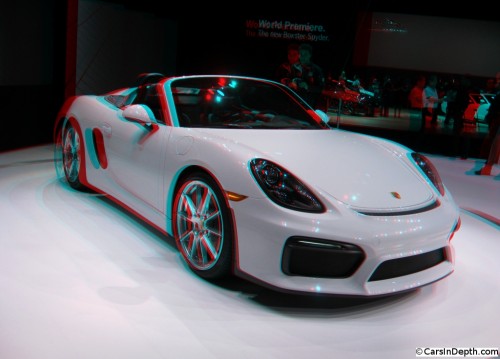 To view the entire photo gallery in 2D or your choice of stereo 3D formats, click here for a Flash player , here for an HTML applet, or here for an HTML5 viewer
All it takes for Porsche to earn back the good graces of their enthusiast fanboys, after introducing SUVs and sedans, is to come out with what looks like a purist sports car. This time it was the Boxster Spyder, said to have all of the essentials with none of the fluff. That may be so and the Boxster may be a very capable performance car, but Porsche is still the most cynical car company in the world. They've gotten their enthusiast fans to buy into the notion that it's the success of the Cayenne and Macan CUVs that allows them to make what purist cars they do make.
Interestingly, Porsche's version of their minimalist sports car has a styling feature borrowed from their most expensive road car, the 918 hybrid, fairings that run from behind the seat headrests to the back deck of the car. They also evoke the single fairing/fin on the 1950s era 550 Spyder racers.
The Porsche-Piech family that controls 51% of the VW group's shares likes having the family name associated with fast cars, but I believe that they like being rich even more.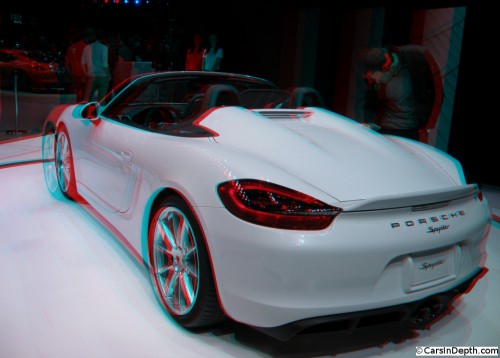 To view the entire photo gallery in 2D or your choice of stereo 3D formats, click here for a Flash player , here for an HTML applet, or here for an HTML5 viewer