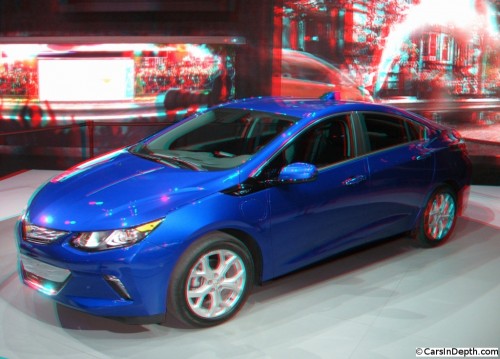 To view the entire photo gallery in 2D or your choice of stereo 3D formats, click here for a Flash player , here for an HTML applet, or here for an HTML5 viewer
I think it's safe to assume that the first Chevrolet Volt was designed to look like an electric car. For the second generation of GM's extended range hybrid car, GM Design has taken a more conservative look, resulting in a Volt that still shares some styling cues with its predecessor but looks more like a conventional car.
There have been some technical improvements as GM continues to develop its battery tech. The 2016 Volt is also the first North American application of GM's new family of all aluminum direct injected four cylinder engines. It's a bit larger at 1.5 liters than the 1.4 L ICE in the first Volt, but it weighs 100 lbs less than that engine, which has an iron block.

Start the YouTube video player. Click on the settings icon in the menu bar to select 2D or your choice of stereo 3D formats
The 1.5-liter is the first of GM's new four-cylinder, direct-injection, aluminum-block engines in North America. Despite a compression ratio of 12.5:1 (compared with the 1.4's 10.5:1), the 1.5 runs on regular gas and makes 101 horsepower. And the powertrain is 100 pounds lighter than the outgoing car's, useful considering that Volt drivers generally prefer to motor electrically, carrying the engine as dead weight.
Range is up 31% to 50 miles on battery power and fuel economy when powered by gasoline has also been improved over the 1st gen Volt from 37 mpg to 41 mpg. Volt owners will also save money on the gasoline itself since the new Volt takes 87 octane, not premium gas like the original.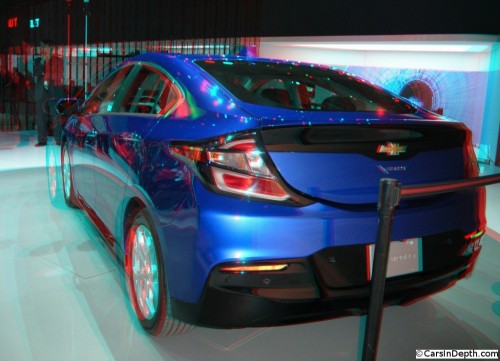 To view the entire photo gallery in 2D or your choice of stereo 3D formats, click here for a Flash player , here for an HTML applet, or here for an HTML5 viewer