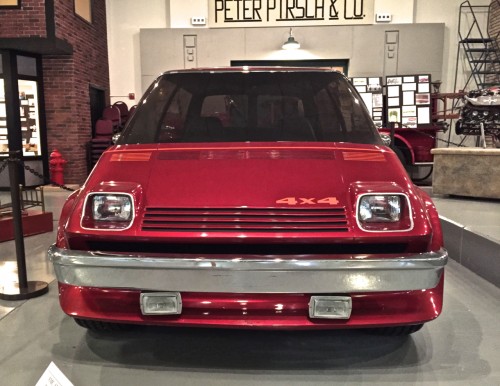 "Struggling American Motors" was such a familiar phrase in news accounts of the company in the 1970s that one could be forgiven for thinking that "struggling" was part of its name. Banks had been extending credit through successive years of losses but it was clear that such generosity would eventually come to an end.
The company had to show that it at least still had some good ideas and so in 1977, in what was probably a Hail Mary Pass, Chairman Roy Chapin put together a dog and pony show called Concept 80, a showcase of full-scale prototypes the company could produce in the near future—if it only had the resources to develop them.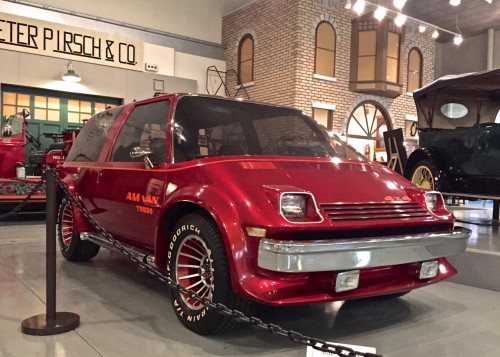 The most interesting of the concepts, and possibly the most prescient, was the Am Van, a foreshadowing of what would become one of the most popular vehicle segments—and a segment which AMC would not get to compete in—the minivan.
The Am Van was a non-running, fiberglass mock-up and had just the suggestion of an interior. It was said to be 2 inches shorter than a VW Beetle which would make it roughly 160 inches long, or about a foot and a half shorter than the Pacer Wagon, which it vaguely resembles, or the first generation Chrysler mini-vans.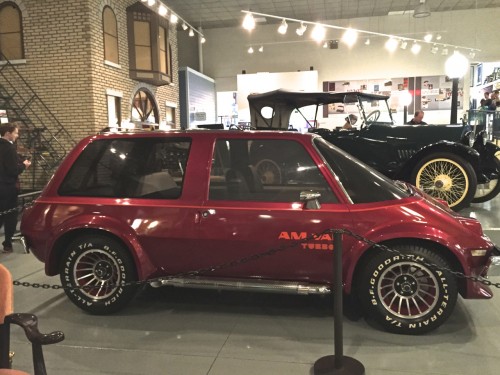 The Am Van was billed as having three across seating front and rear so the stubby front end suggests a transverse mounted engine since a longitudinal configuration would intrude too much into the front passenger space.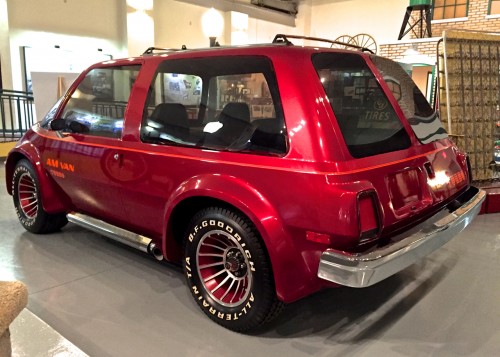 The "4 X 4" badging makes sense since AMC had considerable experience with four-wheel-drive systems through its Jeep division. The "Turbo" badging is curious, though, because in the late 1970s U.S. automakers had had little experience with turbocharging and AMC had had none. One would assume, too, that given the design's space constraints and its fuel economy goals that the Am Van would have been powered by a 4-cylinder engine. Starting in 1977 AMC did offer a 4-cylinder engine but it bought it from Volkswagen then later switched to GM's 2.5-liter "Iron Duke". Neither of those engines was offered with turbocharging at the time.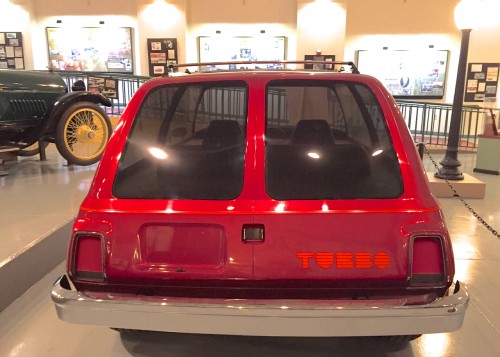 The Am Van certainly looks to be a very pleasing and practical design and at the very least demonstrated that Dick Teague's design department could still come up with attractive cars. Unfortunately, Chapin's road show scored more compliments than cash and within two years the banks would be calling in notes and forcing the company into partnerships which would lead to its demise.
The Am Van prototype is part of the Joe Bortz Auto Collection in Highland Park, Ill. Bortz owns of the largest private collections of concept cars, many of which might have been destroyed or otherwise lost without his efforts. Chrysler divested itself of many of the AMC artifacts it acquired when it took over the company including the Am Van concept. Bortz says that Chrysler turned it over to him out of appreciation for his efforts  to save the 1955 Chrysler Ghia concept.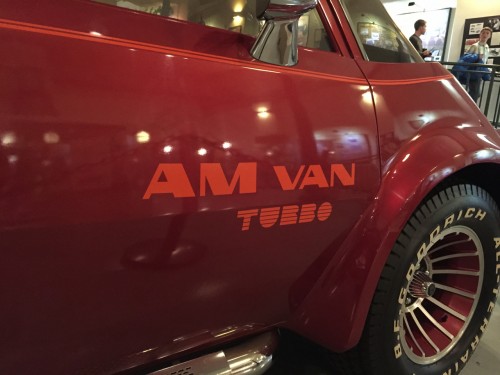 The Am Van is on display in the Rambler Legacy Gallery of the Kenosha History Center now through September. The gallery is dedicated to Kenosha County's manufacturing heritage and offers an extensive display of information related to the Thomas B. Jeffery company, Nash, and American Motors.