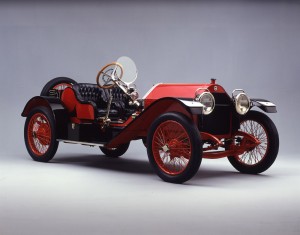 The 15th annual Ironstone Concours d'Elegance will take place on Saturday, Sept. 24, 2011, at the Ironstone Vineyards, just outside the historic goldrush town of Murphys, California. The concours attracts only the best and most beautiful vintage automobiles from Northern and Central California. Most are driven to and from the show.
"It's one of Northern California's best-kept secrets," say those who attend the concours regularly. Ironstone is the place to see more than 300 outstanding classic and antique automobiles.
This year's event will have a number of new activities. For the first time, selected attendees will be able to take rides in a 1913 Stutz Bearcat from the National Automobile Museum collection in Reno, Nevada. Also available for rides will be Model T and Model A Fords supplied by local clubs. In addition, Plein Air artists will paint pictures of cars on the field. As in events past, showgoers will be able to visit unique exhibits by young members of 4H and Future Farmers of America.
This year, Ironstone's featured marques are Stutz, Packard, Pierce-Arrow, Bentley, Rolls-Royce and classic Volkswagens. The concours will also celebrate Chevrolet's 100th anniversary. As before, displays will include classic and antique motorcycles, wooden boats, art-deco trailers and campmobiles.
Admission is $20 per adult or $35 per couple or family of two adults and two children (those under 14 admitted free). Discount coupons are available online. The concours benefits 4H, Future Farmers of America and the California State Fair Scholarship Fund. For complete information, go to www.IronstoneConcours.com or phone (209)785-4234.
Event: Ironstone Concours d'Elegance
Date & time: 24 Sept. 2011, 10:00 a.m. to 4:30 p.m.
Location: Ironstone Vineyards, 1984 Six-Mile Road, Murphys CA 95247
Admission: $20 per adult, $35 per family of two adults & two children, children under 14 free.
Phone: (209) 785-4234
Website: www.IronstoneConcours.com