To view the entire photo gallery in 2D or your choice of stereo 3D formats, click here for a Flash player , here for an HTML applet, or here for an HTML5 viewer
Over the Fourth of July weekend, the surviving members of the Grateful Dead played a series of farewell concerts at Chicago's Soldier Field. That such an oddball band could achieve enough success to still fill a stadium 50 years after their founding, well, as they say, only in America. To Celebrate the Grateful Dead and my fellow Deadheads, we're going to run a few posts on the Volkswagen Type 2, a vehicle so closely associated with Grateful Dead and their fans that when Jerry Garcia died, VW of America ran memorial ads with a drawing of a crying split-window VW Bus. Like the Dead and the Deadheads, we're oddballs, so instead of featuring psychedelically painted Sambas, we'll have a series of posts on air-cooled VW pickups. Actually, by the time the Dead started playing in the band in 1965, sales of VW pickup trucks had dropped by over 2/3rd, due to the so-called Chicken Tax enacted in early 1964, putting a 25% tariff on commercial trucks, in response to German and French tariffs on American chickens.
The 1962 single cab pickup was, like the rest of the VW pickups we'll be featuring, photographed at the annual Vintage Volkswagen Show in Ypsilanti. The gallery at the top of the post is from last year's show, the one below and the rest of the photos in this series were taken at this year's show.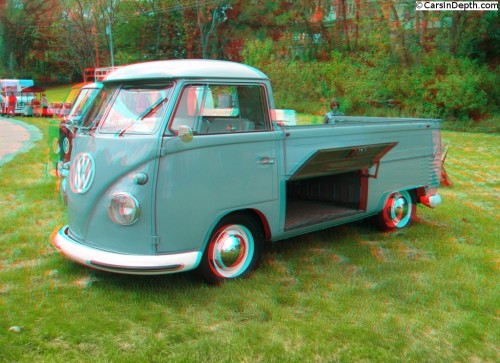 To view the entire photo gallery in 2D or your choice of stereo 3D formats, click here for a Flash player , here for an HTML applet, or here for an HTML5 viewer
vwsplitwindowgreen