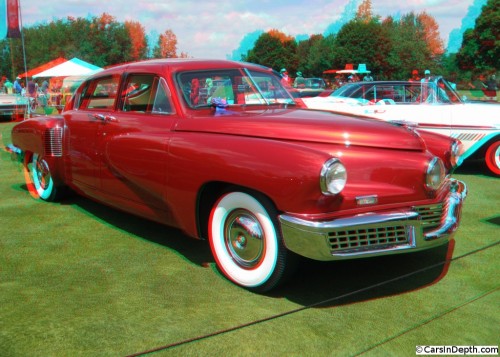 To view the entire photo gallery in 2D or your choice of stereo 3D formats, click here for a Flash player , here for an HTML applet, or here for an HTML5 viewer
For years it's was well known that just 47 Tucker cars existed. Preston Tucker's company managed to finish 37 production examples before he was effectively shut down by the SEC. Another 13 cars were left uncompleted on the assembly line. Twelve of those cars were finished soon after the Tucker Corporation folded. Another was assembled from parts in the 1980s. Over time, four Tuckers have been destroyed. In addition to the cars, the Tucker factory assembled a rolling chassis to use as a mule for testing Preston Tucker's novel gearless automatic transmission that he hoped to eventually offer. That chassis was numbered 1052 and eventually was gathered up in a lot of NOS Tucker parts.
A couple of Tucker enthusiasts tried to assemble those parts but it wasn't until Tucker fan John Schuler acquired them that the project got off the ground in 2010, more than 60 years after Tucker went out of business. While there was almost a complete body, Classic & Exotic Service of Troy, Michigan fabricated a new roof, floor pan and rear doors and completed the assembly.
Tucker #1052 had its first public showing at the 2015 Concours of America at St. John's, where it won a blue ribbon.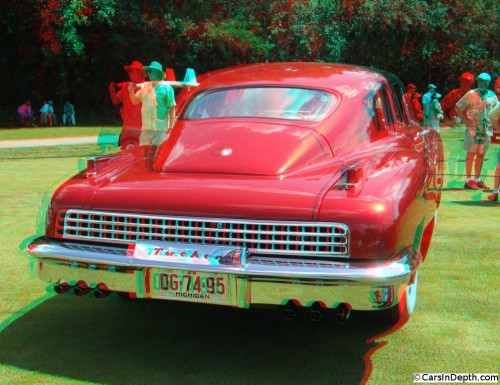 To view the entire photo gallery in 2D or your choice of stereo 3D formats, click here for a Flash player , here for an HTML applet, or here for an HTML5 viewer