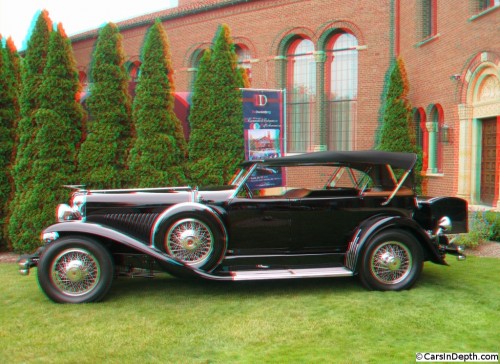 To view the entire photo gallery in 2D or your choice of stereo 3D formats, click here for a Flash player , here for an HTML applet, or here for an HTML5 viewer
E. L. Cord and the Duesenberg brothers built 481 Model J Duesenbergs, most as rolling chassis whose buyers had them fitted with custom bodywork. According to Wikipedia, 378 of those cars are known to survive in one form or another. The way it was explained to me is that there are three different kinds of "real" Duesenbergs. There are numbers matching engine and chassis combinations that still wear the original bodywork. Then there are more or less intact chassis that have been rebodied at some point after the classic era. Finally there are those cars assembled from parts. This Murphy bodied dual cowl phaeton is no agglomeration of parts but is as real a deal as a Duesenberg can get. One of only three dual cowl phaeton Duesenbergs by Murphy, it's been owned by Charles Letts Jr. since 1954, when he paid $4,000 for it.
That was a goodly sum 61 years ago, more than enough to buy most Cadillac models. Still, Letts probably made a good purchase since a fully authentic Duesenberg with an original body is today worth at least a million dollars and maybe as much as three million.