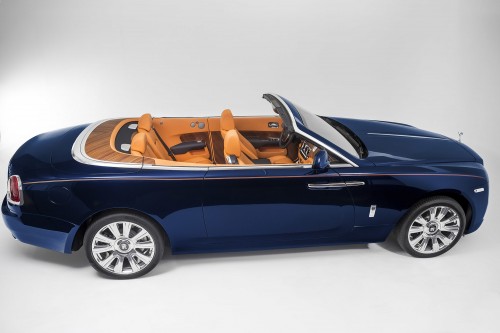 Editor's note: Rolls-Royce has introduced a convertible version of the Wraith coupe called the Dawn. No pricing has been announced but since Rolls-Royce has explained that a fabric roof is a signifier of luxury, one can expect to pay more for the Dawn than the Wraith's $308,000. To justify that extra tariff, R-R is careful to tell prospective buyers of their entry level softtop that 80% of the body is new, distinguishing it from the hardtop. No mention was made of how much is shared with the BMW 7 Series, whose platform underlies the Wraith, Dawn, and Ghost sedan.
I was fooling around with some wordplay concerning the new Roller's name and my first try was "Rolls-Royce has unhooded its new Dawn convertible." For those who don't know, what we colonials in America call a car's roof, our Brit cousins call a "hood", hence a convertible is also known as a "drophood". Oh my, I just had to explain a pun. Bad form.
The next iteration was "Morning has broken over Rolls-Royce's new Dawn convertible," followed by "Royce-Royce's new Dawn convertible has finally seen its first first light."
Somewhat amused by myself, I sent them off to Jack Baruth and said "your turn," and this is what the sensei tossed off in just a few minutes. I was just going for some puns. Jack came up with a car review and social commentary all in three stanzas. The choice of Gordon Lightfoot's upbeat (but below that dark) Minstrel of the Dawn, was perfect.

With apologies to Gordon Lightfoot:

The minstrel of the Dawn is here
To bring the one percenters cheer
It's very different from a Wraith
If you'll believe and have some faith

Listen to the canvas top
Above your head it slithers and it drops
Listen to the springs
They jangle and dangle like the register rings

The minstrel of the Dawn is gone
I hope you'll follow 'fore too long
A douche-mobile for newly rich
A Russian and a Russian bitch

Sing you a song
The minstrel, of the Dawn
I think I know how Miguel Cabrera's teammates feel when he's at bat. Of course, Cabrera only succeeds 35% of the time. Jack does way better than that, but he did miss an opportunity. In his defense, he was working off Lightfood's lyrics from memory. GL sings:

A minstrel of the dawn is near
Just like a step 'n fetchit here
He's like an old time troubador
Just wanting life and nothing more
Look into his shining eyes
And if you see a ghost don't be surprised