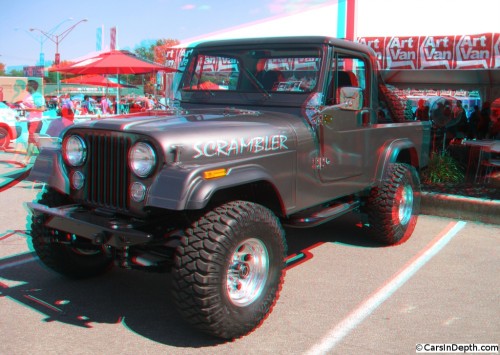 To view the entire photo gallery in 2D or your choice of stereo 3D formats, click here for a Flash player , here for an HTML applet, or here for an HTML5 viewer
Fiat Chrysler CEO Sergio Marchionne confirmed, at the 2016 NAIAS in Detroit, that Jeep will be making a Wrangler based pickup truck shortly after the next generation Wrangler launches in late 2017. Here's a look at the last CJ based pickup truck, the CJ-8 Scrambler. This is what Wikipedia says about the CJ-8 Scrambler:
The Jeep CJ-8 was a long wheel-base version of the CJ-7, introduced in 1981 and manufactured through 1986. It featured a 103 in (2,616 mm) wheelbase and a removable half-cab, creating a small pick-up style box instead of utilizing a separate pickup bed. CJ-8s used the traditional transfer case with manual front-locking hubs to engage the four-wheel drive. Most had either a four or five speed manual transmission, but a three speed automatic transmission was an option.

The term "Scrambler" comes from an appearance package that many CJ-8's were equipped with, which included tape graphics and special wheels. Former President Ronald Reagan owned a CJ-8 and used it on his California Ranch.

A full length steel hardtop CJ-8 was made for the Alaskan Postal Service, using right hand drive and automatic transmissions. Instead of the rear tailgate, the steel hardtop utilized a hinged barn door opening to the back. There were only 230 produced and sold in the U.S. It was also widely sold in Venezuela and Australia as the CJ8 Overlander, with small differences including full length rear windows on the Overlander.Steel hardtops used on these postal Scramblers and Overlanders were known as "World Cab" tops.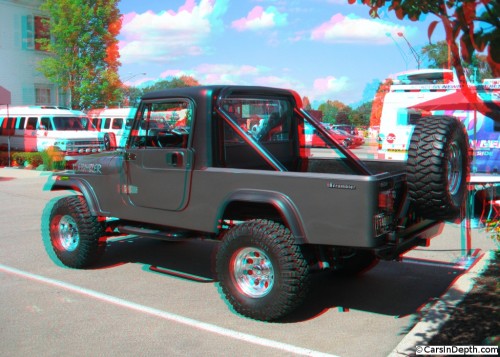 To view the entire photo gallery in 2D or your choice of stereo 3D formats, click here for a Flash player , here for an HTML applet, or here for an HTML5 viewer