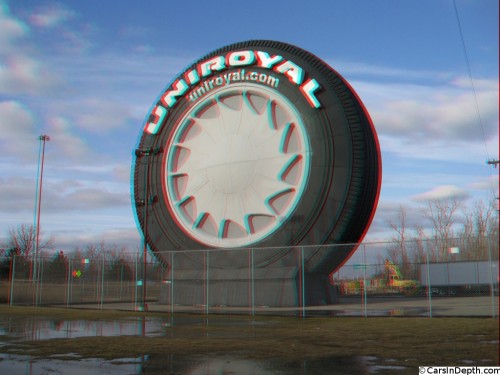 To view the entire photo gallery in your choice of 2D or stereo 3D formats, click here for a Flash player or here for an HTML applet
The 1964-65 New York World's Fair was an opportunity for American corporations to strut their stuff. My dad was from Brooklyn and we frequently visited NYC, so a trip to the World's Fair for our family was a certainty. I recall the shows at the IBM and DuPont pavilions being impressive to a 10 year old, and as Detroiters we were sure to take in the Big 3 automakers' large and impressive displays. I remember Chrysler hyping their turbine powered cars. Sinclair Oil (now Sunoco), whose logo was a dinosaur, had life size replicas of the monster lizards and AT&T and their Bell Labs demonstrated picture phones.  One of the most popular exhibits, though was a Ferris wheel. It wasn't a particularly big Ferris wheel, 86 feet tall, but what made it popular was that it was built inside what U.S. Rubber billed as the "world's biggest tire" to promote their Uniroyal  brand.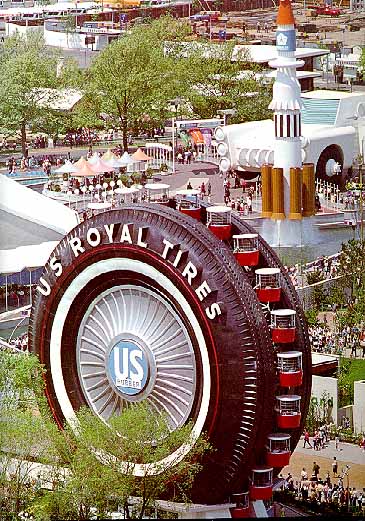 It was one of the Fair's most popular attractions. They even made souvenir toys of the giant tire.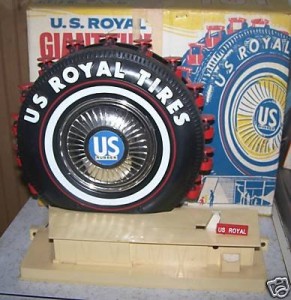 Over two million people paid 25 cents to ride the World's Fair Ferris wheel. If you were one of them and you wondered what ever happened to it, the "world's biggest tire" stands next to Interstate 94 in Allen Park, Michigan, where it greets visitors to the Motor City as they travel from the airport into Detroit. After the Fair ended in 1965, the passenger gondolas and ferris wheel components were removed and sold to an amusement part. At the time there was a large Uniroyal plant in Detroit and the company was a major OEM supplier, so after disassembling the tire into hundreds of parts, it was trucked to Detroit and reassembled near the intersection of two freeways.
Since the 1960s the tire has been updated a few times. It started out as a bias ply tire, but was restyled to reflect the popularity of radial tires in the early 1990s, and then in 1998, a 12 foot nail "punctured" the tire to promote Uniroyal's NailGuard self sealing tire. In 2003, Uniroyal gave the giant tire a complete renovation, replacing structural members, restoring the exterior panels, building a new base and adding lighting.
It continues to be a Detroit area landmark. Getting photos of the tire isn't easy. It was sited to be viewed from a limited access highway so there isn't easy pedestrian access. You can't exactly pull over on the side of the Interstate to snap a few shots. Eventually I found an access road that ends at the railroad tracks that run parallel to the highway. Perhaps I was trespassing, but crossing over the tracks and walking through a small stand of trees led me to the giant tire.