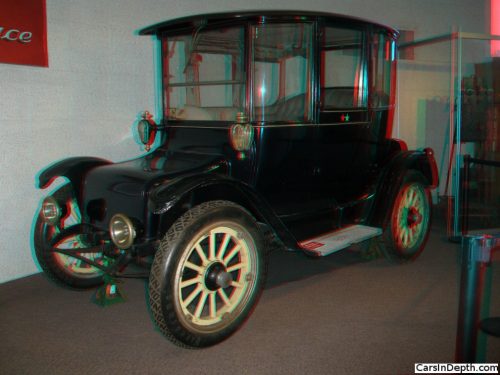 Helen Newberry Joy's 1914 Detroit Electric. Her husband, Henry Joy, ran Packard.
To view the entire photo gallery in 2D or your choice of stereo 3D formats, click here for a Flash player , here for an HTML applet, or here for an HTML5 viewer
Over at Jalopnik, Alanis King has a pretty decent post on the history of electric cars. I could quibble with one or two points in her article, but based on my own forays into automotive history for the most part it appears to be reliable. King's post, though, is compromised because it's headline, Why Electric Cars Ruled the Roads 100 Years Ago, is simply not true. More than 100 years ago, yes, but by 1916, the vast majority of automobiles on the road were gasoline powered and none of the electric car makers produced anywhere near the volume of cars that companies like Studebaker sold, let alone Ford. In fact, by 1916, Studebaker, which got into the car biz in 1902 with electric power, had discontinued making and selling EVs.
Detroit Electric sold more electric cars than any other company until Nissan and Tesla got into the game in the modern era. Detroit Electric sales peaked in 1914 at ~4,500 cars. Studebaker, which started making carriages in the 19th century, first entered the automobile market in 1902 selling an electric car. Two years later they started selling gasoline powered cars and sold both electric and gasoline powered vehicles until 1911, when they discontinued the Studebaker electrics. That year Studebaker sold over 22,500 cars, the vast majority of them gasoline powered. By 1913, Studebaker was the third largest automobile company in America by 1913, with sales of over 35,000 units. If the third biggest car company in the U.S. was selling multiples of what the biggest electric car company was selling, one can't say that electrics were ruling the road.
To view the entire photo gallery in 2D or your choice of stereo 3D formats, click here for a Flash player , here for an HTML applet, or here for an HTML5 viewer
Of course when you consider that in 1914, Ford Motor Company sold more than 200,000 Model Ts, over forty times the number of electrics sold that year by the biggest EV maker, it was gasoline that was ruling the American road by 1916, not electricity.
King's point that the lack of rural electrification and the quick growth of gasoline infrastructure were factors is undoubtedly true. However, by 1914 electric car makers were also already running into issues like charging time and energy density (issues that still affect EVs today), while gasoline technology was developing by leaps and bounds. That was one reason why Thomas Edison promoted his nickel-iron batteries for use in EVs and Henry Ford, Edison's friend and former employee, spent about $1.5 million circa 1914 on developing an electric version of the Model T.
One of my quibbles, by the way, has to do with King's feminist take on history: "A 1911 New York Times article described how electric cars were popular among women in particular, because "early gasoline cars required more strength to crank than most women possess." (Thank goodness we as a society have evolved in more than just the automotive industry, right?)." It may offend those who think that men and women are interchangable with no differences (save for the ones that can be framed as making women looking superior and men look defective), and King's management at Gawker, but the NYT was describing an unarguable truth.
Electrics were indeed popular with women. They were quieter and cleaner than gasoline or steam cars. Clara (Mrs. Henry) Ford had a Detroit Electric as did Helen Newberry Joy, whose husband, Henry Joy, ran Packard. The issue of hand cranking a gasoline car was also undoubtedly a factor, both because of the general differences between man and women in upper body strength and because hand cranking a car is dangerous and was even sometimes fatal. Charles Kettering undoubtedly made driving gasoline cars more accessible to women with his invention of the electric self-starter.
Political correctness aside, simply put, by 1916 gasoline cars were more practical for just about all drivers than electrics.