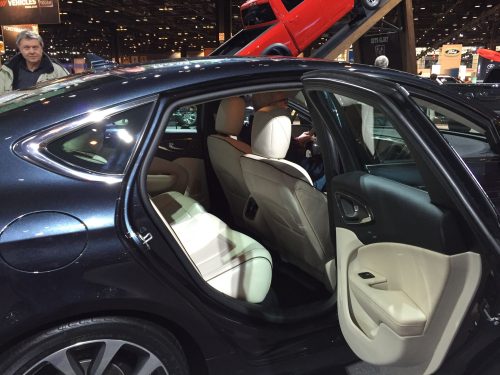 The admission was as breathtaking for its honesty as for its implications. FCA chief Sergio Marchionne admitted that his designers ("dummies", his word) screwed up the rear doors on the Chrysler 200 when they copied the door opening and roof line of a Hyundai. What's more, he says his company is no longer capable of building competitive sedans and will leave that market segment unless he can find a partner willing to help. The Chrysler 200 along with the Dodge Dart are to be discontinued.
On the bright side, he thinks FCA is learning from the process.
You have to admire his honesty but that admission is almost mind-numbing. Consider: FCA was formed by the merger of FIAT S.p.A., a company founded in 1899, with Chrysler Corporation, a company founded in 1925 but which had risen from the ashes of Maxwell Motor Company which was founded in 1904. In 1987 Chrysler bought American Motors which traced it roots back to the company Charles Nash founded in 1916. With the AMC acquisition Chrysler also scored Jeep which AMC had bought from Kaiser which had bought it from Willys, two companies with long histories themselves.
Add up all that manufacturing experience and we're talking about hundreds of years in the business. Kia and Hyundai have been building cars for less than 50 years each but seem to have developed a talent that eludes FCA. Elon Musk had never designed a car before the Model S yet by all accounts his company hit one out of the ballpark on its first at-bat.
Truth is that Chrysler had a lot riding on the 200 and it just isn't selling that well. Americans may love their trucks and SUVs but they still buy a lot of sedans, especially mid-sized models which currently are the sweet spot in the passenger car market. Sedans may not be generating the kinds of profits that trucks are but a credible car maker has to offer a full line of vehicles, not just the ones that make a lot of money.
Is it possible, though, that the 200 will die an ignominious death simply because it's difficult to climb into the back seat? Is the 200 any more difficult to get into than competing models? Curious, I decided to take a closer look during the Chicago Auto Show earlier this year.
The 200 doesn't look so very different from any number of competing sedans. Its smooth, flowing lines are a bit bland but pleasant enough and its tapering roof line wouldn't appear to limit rear seat room any more than, say, a Ford Fusion's. Open the rear door, though, and take a look at the devil lying in the details.
The 200's door opening appears noticeably smaller than either the Ford Fusion or the Chevrolet Malibu. A couple of factors contribute to this but the chief culprit is probably the 200's wheelbase which is 3.5 inches shorter than the Malibu's and 4.5 inches less than the Fusion's. This results in reduced space at the bottom of the opening which forces a passenger to twist his foot sideways on entering. The shorter wheelbase also results in a more sharply tapered roof line which forces the passenger to duck awkwardly as he tries to stuff his upper body through the smaller opening. My friend Chuck bravely agreed to demonstrate in the photo below.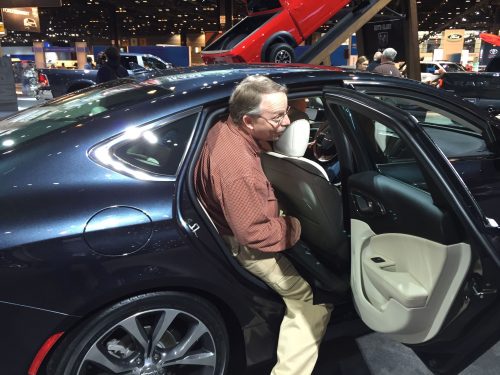 It wouldn't matter to someone like me (I own a 2016 Miata and a 2013 Mustang) but sedan shoppers probably expect to use that back seat now and then and probably try it out before they buy, especially if teens or adults will be sitting back there. They are probably also a bit more value conscious otherwise they would be keeping up with the neighbors by buying a more expensive crossover, SUV, or pickup truck.
By itself a narrow rear door opening isn't going to kill an entire model line but Chrysler was trying to win back buyers who had left the fold during darker days under previous management. In the meantime, competitors had moved the target and "good" was no longer good enough. The Chrysler 200 is good—maybe even quite good—but it had to be great and it isn't. And if FCA designers messed up a detail as important as the rear door opening of a family sedan, well, maybe they need to give up on passenger cars.