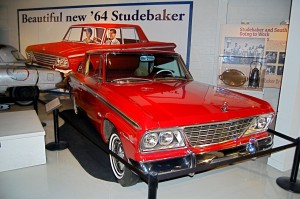 On December 20, 1963, a sweet little red Studebaker Daytona rolled down the assembly line in South Bend, Indiana.  Near the end of the line, one last worker installed one last part, tightened one last screw and, as the car rolled off the line, packed up his tools.  His job was done.  He, and Studebaker, had just built their last car in South Bend.
On the second floor of the Studebaker National Museum in South Bend that sweet little Daytona sits shiny and proud, still with less than 50 miles on the odometer.  The car has never been restored, it has always been kept in its original condition.  As I stood there admiring how well it had been preserved I began to think about the weight of history that is riding on its four wheels.  As it came down the line on that December day there were no more cars behind it.  None.
Studebaker Corporation sprang from a simple blacksmith shop established by two brothers in 1852.  It became the largest manufacturer of horse drawn vehicles in the country and it would be the only company to successfully make the transition from the horse drawn carriage to the automobile.  For over one hundred years, this company had been the pride of South Bend, employing thousands of workers, supporting their families and helping them fulfill their dreams.
Studebaker built some of the highest quality wagons and carriages you could buy.  Its automobiles were noted for their durability and technical innovation.  From its design partner, Raymond Loewy and Associates, came some of the most stylish American automobiles ever made.  During World War II it became part of America's "arsenal of democracy",  proudly churning out trucks and airplanes for the allied forces.
In the end, none of this could help the beleagured company survive fiscal problems that had festered throughout the 1950s.  High overhead costs, a weak dealer network and an ill-conceived merger with Packard set the stage for the company's demise.  After South Bend was shuttered Studebaker shifted production to a Canadian factory using engines it bought from General Motors.  On March 16, 1966, one last car came down that line and Studebaker would be no more.  That car is also on display, a few feet from the red Daytona.
From the beginning, Studebaker carefully preserved its historical artifacts, including many of its vehicles.  Including these last two cars to come down their respective assembly lines.  Let us hope that the story and the cars of this once great company will continue to be preserved for generations to come, that the red Daytona will continue to look as good as it does today.  As good as it did on December 20, 1963.