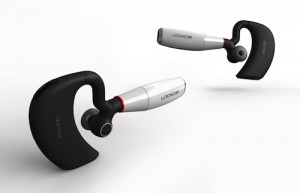 Every once in a while, a product comes along which simply revolutionizes the way human beings interact, communicate, and share their worlds with each other.
The Looxcie Wearable Camcorder is not such a product.
It is, however, one of the most amusing gimmicks available for sale at the moment. It's billed as a "social media device". As far as I can tell, that has something to do with Twitter, and I tend to avoid Twitter like the plague. Don't follow me on Twitter. I won't accept your request. If, however, you're an attractive young woman and you're interested in the possibilities of heading out to California and filming the two of us having

a rollicking good time in the new-for 2011 Ford Mustang Boss 302, forget it. The press preview is over. However, as you will find out in the technically fascinating review below, it's just the thing for proving that you did, in fact, have sex with someone too drunk to realize you were wearing a camera on your ear, complete with blinking light.
As you can see in the photo above, the Looxcie slips over your ear. If, however, you wear glasses, this becomes considerably more awkward and difficult. Did the Looxie developers think that "tween social media intenders" or whatever the hell the target demographic was is too cool to wear glasses? Guess what — every pansy-ass hipster kid in North America is wearing fake eyeglasses nowadays. This should be fixed, pronto. On the positive side, switching the Looxcie from one side to the other on your head is a quick operation. Changing between the three differently-sized earpieces is not easy but you shouldn't have to do it more than once.
My original plan was to get Looxcie footage while driving the new Mustang around Laguna Seca. However, I quickly discovered that the Looxcie is not even close to being helmet-compatible. Instead, I sat in the passenger seat while another autojourno ran the Boss up and down the hills surrounding Monterey, CA. Naturally, I had to "pair" it first. This is described reasonably in the instruction manual, but you'll need an Android-compatible phone and some patience to make the process happen. Read the directions CAREFULLY. This is not as simple to pair as a Bluetooth headset. You'll also need to download the Looxcie apps from the Android Market. Not all Androids can run all the apps.
Once you're paired-up, you can choose to record thirty-second snippets and automatically upload them to Facebook. I didn't do that, because my co-driver was doing 110 in a marked 35. So I used the Looxcie as a small camcorder, eventually taking it off my head and waving it around in my hands. This defeats the entire purpose of the Looxcie, but the footage looked okay. Editing said footage on my Motorola Droid took more patience than I could muster, nor was I ever in an area with enough bandwidth to properly upload any of the snippets. Mind you, if you're a non-fake-glasses-wearing hipster on a rooftop in Los Angeles, this will likely prove to be much easier. Note, also, that if you take a call the Looxcie will function as a Bluetooth headset, but the camera portion won't work while you're taking a call.
With the Looxcie back on my head for a walk around downtown Monterey, I quickly realized that a little bit of retraining is needed to get effective "social footage" from the Looxcie. If you look around with any rapidity, the resulting footage is nauseating. Look at one thing then slowly move your head. Think of yourself as a human Steadicam. Or a robot. Don't expect to get laid wearing this thing, unless you can find someone who is into having sex with pretend robots. If you can find that person, take off the Looxcie, pick up your phone, call me, and earn the $250 bounty I'm offering for this sort of thing.
Although I didn't find the Looxcie to be super-compatible with my glasses-and-helmet-wearing non-social lifestyle, I decided that I would return to Ohio and try wearing it out in a social situation. At the very least, it would be a conversation starter. I would classify it as the second-best conversation starter I know, after my friend Sean's patented approach.
"Excuse me, miss. How much do you think a polar bear weighs?"
"Uh, I don't know (because I'm an ecstasy-addled rave tramp, of course)."
"Enough to break the ice. Hi, I'm Sean."
With game like that, you'd be using your Looxcie in "social situations" before you knew it. Another fun way to use a Looxcie would be to wear it through airport security. Videotape your own groping, sell it on a website. I wish I'd done that, because the Looxcie mysteriously disappeared from my luggage on the flight home. Did the TSA think it was a terrorist device? Were they jealous? Are female TSA agents so desperate for attention that they'd let someone wear the Looxcie during furry roleplay? We'll never know. Now I'm short one Looxcie and I have some explaining to do to everyone involved.
Is the Looxcie right for you? It's pretty cheap ($160 street price) so that makes taking a chance on one easier. It's not an action-sports item, and it's not for a middle-aged myopic fellow like me, but it does appear to be well-made and durable, so if you can think of a reason to use it, it might be worth a try. Just don't leave it in your luggage.