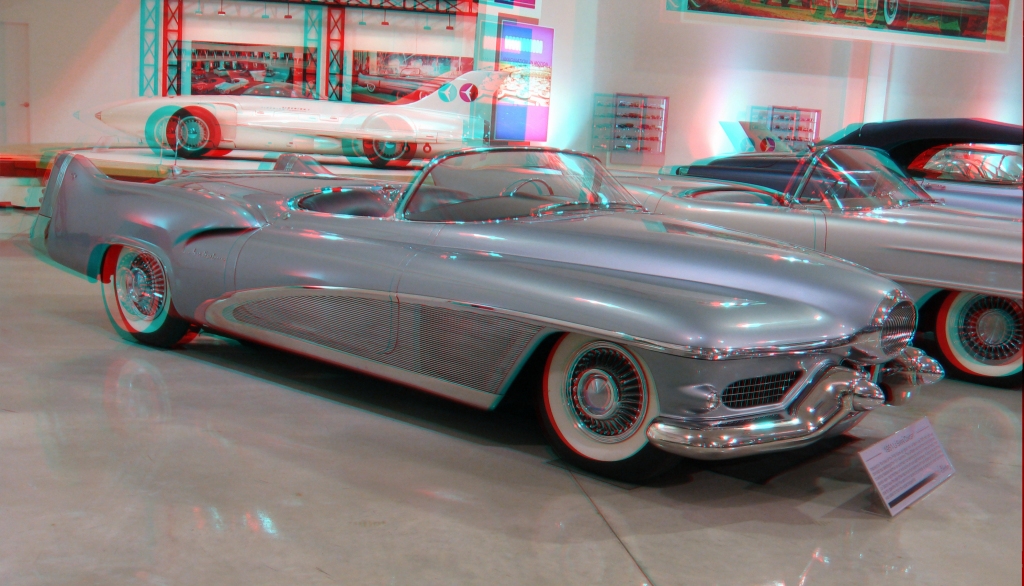 Click on the image to see the full gallery in your choice of 3D formats or 2D.
It's hard to understand just how revolutionary Harley Earl's LeSabre show car was when it was first introduced in the early 1950s until you see just how low and sleek the car really is. At the GM Heritage Center, the LeSabre sits with other cars from the Motorama shows. Right next to the LeSabre is the Cadillac LeMans concept, and next to the LeMans is an Oldsmobile Fiesta. If they made it today, the Fiesta would be called a halo car. First shown at the Motorama, only a few hundred Fiestas were made, essentially hand-built. With its reshaped cowl, the Fiesta was lower than a conventional GM sedan. The Cadillac LeMans, from 1953, is lower yet. The LeSabre, first shown in 1951, though, is in Ford GT40 territory. To shoot video at bumper level I had to get on my knees.
More video after the jump.

Start the video, then pause and click on the "3D" icon in the player's menu bar to select your choice of3D format or 2D
More video of the LeSabre from the GMHC.

Start the video, then pause and click on the "3D" icon in the player's menu bar to select your choice of3D format or 2D