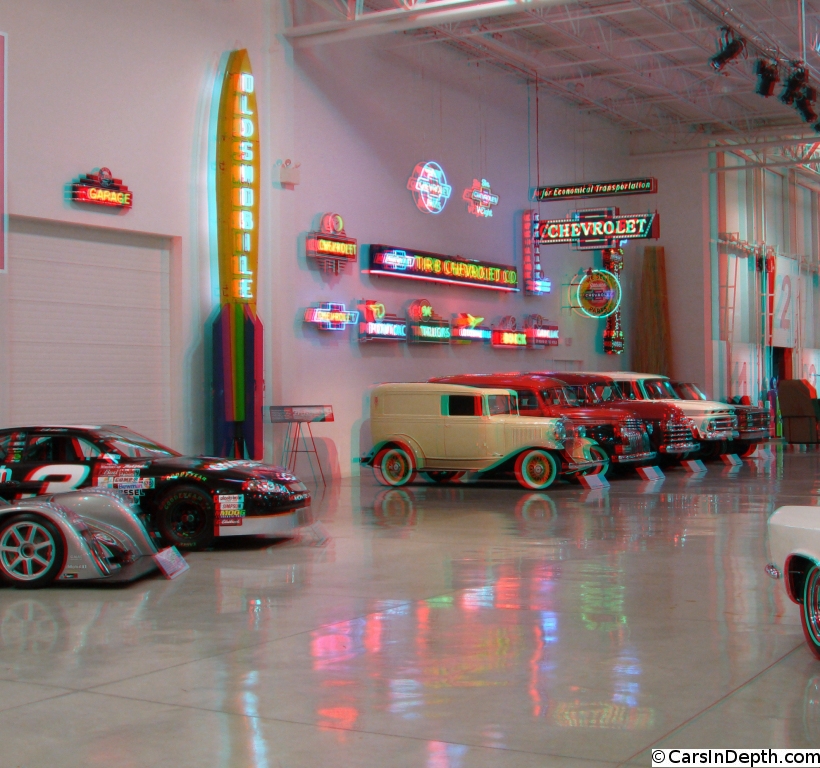 Click on the image to see the full gallery in your choice of 3D formats or 2D.
The General Motors Heritage Center doesn't just house cars from GM's collection of historic production and concept vehicles. It has collections of scale models and memorabilia. The GMHC also has a nice selection of vintage neon signs from Chevy, Buick, GMC, Pontiac, Oldsmobile and Cadillac dealers mounted above a display of 75 years of Chevy Suburbans. Most prominent among them is a 25 foot tall Oldsmobile rocket. Since some of the signs are suspended from the ceiling or project out from the wall, they look pretty cool in stereo, standing out in space. I also like how the signs' colors are reflected on the glossy floor of the GMHC. Some of the signs were flashing on and off, which was useful for getting a sync signal for matching up left and right videos that I shot of cars on display at the GMHC so fortunately I have some stereo video of the signs in "action".

Start the video, then pause and click on the "3D" icon in the player's menu bar to select your choice of 3D format or 2D
More video after the jump.

Start the video, then pause and click on the "3D" icon in the player's menu bar to select your choice of 3D format or 2D