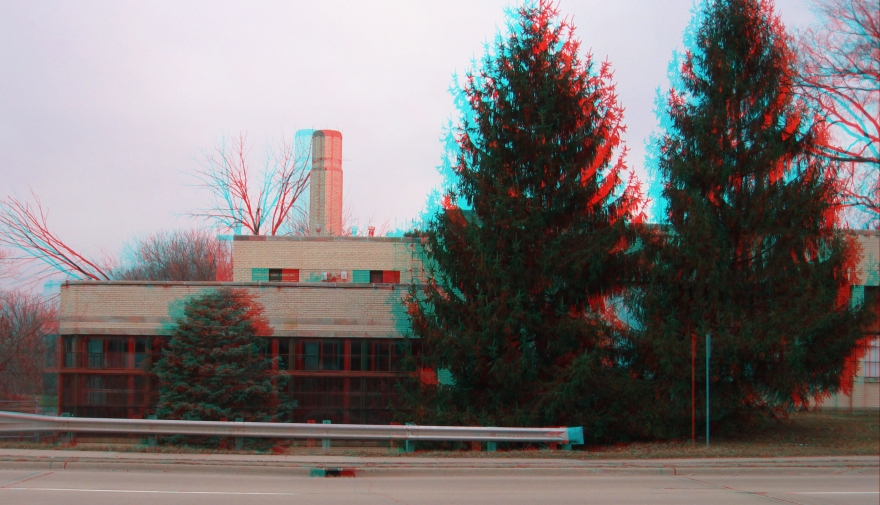 Ford Village Industries Newburgh Mill Today.
Click on the image to launch a Flash player and view the entire gallery in your choice of 3D formats or 2D.
Henry Ford operated about 30 small factories around Michigan, all on the sites of mills, since Henry was a big fan of hydroelectric power. He owned a great deal of bottom land along the middle Rouge river, land that probably couldn't be developed due to regular flooding. Ford told Wayne County that he would donate the land to be used for a public park, if the county, using New Deal Federal Works Program funds earmarked to control flooding, built dams on the middle Rouge. The dams created mill ponds and a steady source of water power for Ford's small factories. While some Ford Village Industries sites used the original mills, the ones on the middle rouge were designed by Albert Kahn. They have large windows, typical of Kahn industrial designs, along with decorative touches that you might not expect on a factory. All the Kahn Ford Village Industries buildings still stand. In the case of the Newburgh Mill it's being used by Wayne County Parks' maintenance department, and sits next door to the stable used to house the horses for the county sheriff's mounted patrol.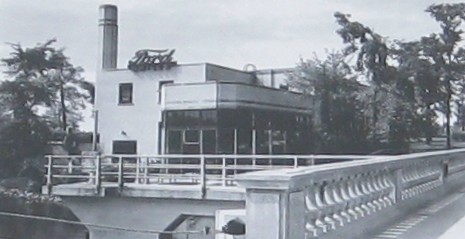 Newburgh Mill soon after construction in 1935. The sign reads "Ford Drills".
Located on the site of a former cider mill, the Newburgh Mill sits on Newburgh Lake, enlarged by the dam built in 1934. A year later the factory opened to make drill bits used in larger Ford factories around the world. It's not clear if the original 35 horsepower hydroelectric generator is still in the building or if the original sluiceways are in place (the dam still holds back the lake), but even if they were functional, I don't know if there would be a net energy gain after the restoration. Though Henry Ford was enamored of water power, a 35HP hydro plant wasn't sufficient to operate the facility and a steam engine was used to supplement the small factory's power needs. Still, if the generators are still functional, it's enough almost-free energy to keep the stable next door lit up.