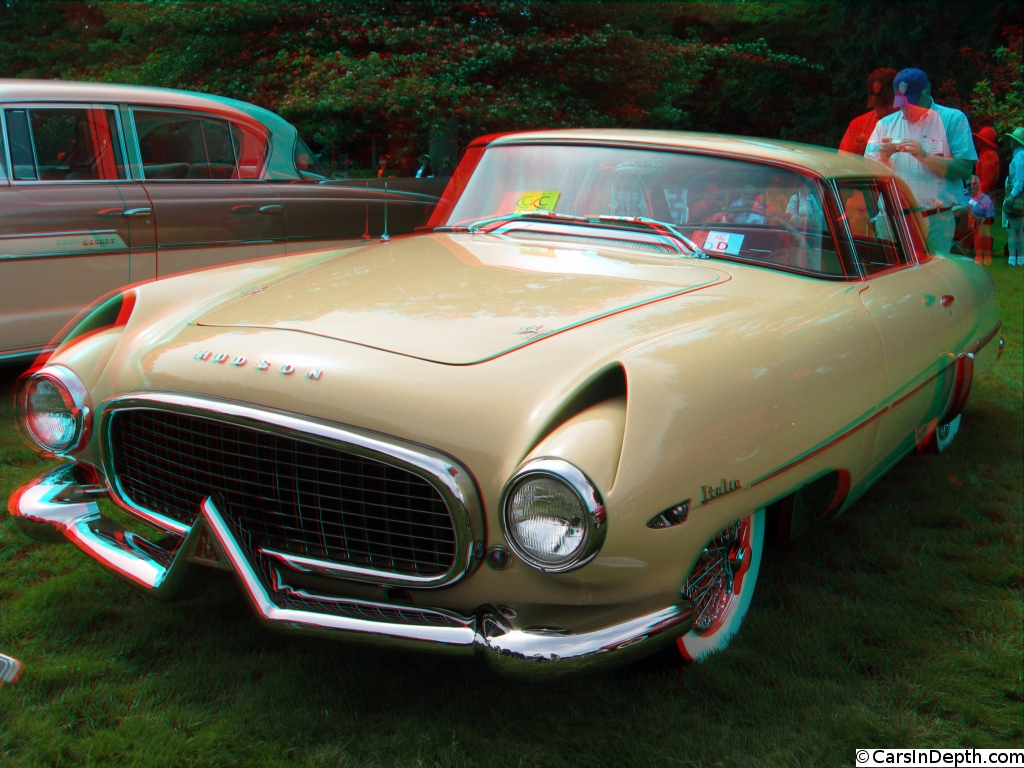 To view the entire photo gallery in your choice of 2D or stereo 3D formats, click here for a Flash player , here for an HTML applet, or here for an HTML5 viewer
The annual Eyes On Design car show at the Edsel and Eleanor Ford estate is held to benefit the Detroit Institute of Ophthalmology. Unlike most judged car shows Eyes On Design does not award prizes based on condition (though almost every car in the show is in beautiful show quality). As an event dedicated to vision care, as the name indicates the show is based on design. Many of the judges (and some of the entrants as well) are working or retired automotive designers. The result is that the show attracts both classic designs and unusual designs that aren't seen at every auto show. I ended up taking over 350 photo pairs and it seems to me that the cars at this show were so special that they deserve more individual attention than tossing them into a single gallery.
We're going to start of with the Hudson Italia, a car that you most likely have never seen.
The Italia was possibly the rarest car at a show filled with rare cars as there were only 26 made and only 19 are known to exist. Though Ken Lingenfelter had his Lamborghini Reventon there, there are 20 of those. The Italia was conceived as a way of bringing attention to Hudson's staid and moribund lineup as it approached the mid-1950s but it ended up being too late to save Hudson. Chief designer Frank Spring came up with a wild looking low slung sports car based on the Hornet chassis. It had brake cooling ducts above the headlamps and a clever brake light setup that looked like three exhaust pipes inset on each side.The Hornet was still one of the faster full size cars around and had a reputation for performance. Cost and Hudson chief A.E. Barit's conservative nature, though, meant that the smaller Hudson Jet would be the basis of the car and a Jet was shipped off to Carrozzeria Touring, where a body was hand beaten out of aluminum. Surprisingly, Barit liked the result and Touring was given a commission to build 50. The cars were to be sold for $4,350, more than $500 more than a base Cadillac at the time. That resulted in minimal interest in the car, only 19 advance orders were taken. A second run was proposed that would use the Twin H Power engine from the Hornet, but Hudson's merger with Nash ended that plan. The newly formed American Motors quickly phased out the Hudson models.
Of the 26 Hudson Italias built, 21 have been accounted for, with 18 or 19 (sources disagree) surviving.
Go to How Stuff Works for a more complete look at the story of the Hudson Italia.