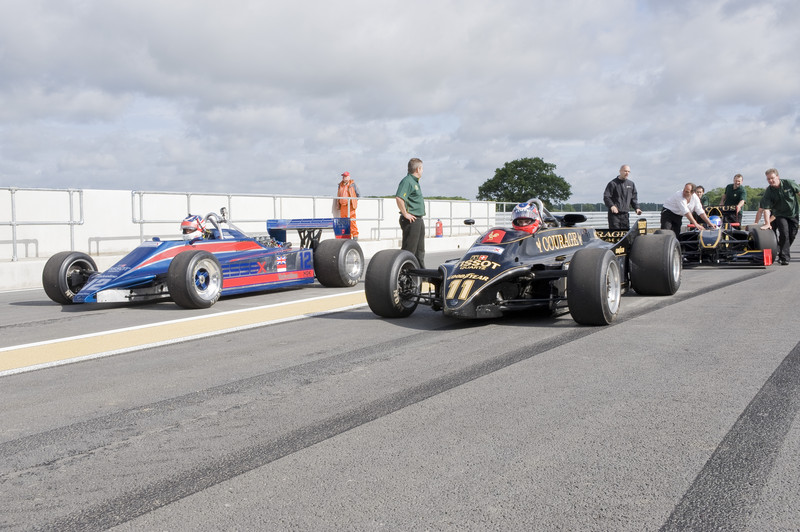 Lotus celebrated the reopening of the test track at their Hethel headquarters and factory by bringing out some historic race cars, historic drivers, their F1 team and some cars they hope to sell to customers. The layout of the course was changed by adding only one corner, but the track was repaved and better runoffs were added, as were trackside amenities that will be used for the Lotus Driving Academy and the Lotus Type 125 Exos Experience. The Lotus test track now has FIA approval, so it's conceivable that the site could host races, including for Formula One. The 125 Exos was taken out by Jean Alesi, who is a consultant in developing the car that will be the basis of Lotus' F1 driving experience for customers. Lotus test drivers haven't needed those runoffs since the course was built 40 years ago in Colin Chapman's day, so I suspect the upgrades were put in place in part to make it safer for those customers who don't have the driving skills of a Lotus factory test driver. Along with Alesi, the event hosted F1 champion Nigel Mansell, who drove the 1981 Essex-Lotus 81B in which he started his F1 career, current Lotus Renault F1 drivers Bruno Senna and Vitaly Petro driving their F1 cars, Mansell's sons Greg and Leo running their works' team GT4 Evoras, as was as Group Lotus factory drivers, James Rossiter and Johnny Mowlem. Rounding out the guest list was Clive Chapman, whose Classic Team Lotus brought the 81B as well as the revolutionary Lotus 88 "twin chassis" car that competitors got banned so it never raced in competition. Group Lotus has plans to create a Lotus museum with the participation of Classic Team Lotus as well as a vistors' center on the Hethel site. The track upgrades are part of that plan to make Hethel a destination for car enthusiasts and include a hospitality center for the driving academy, Exos Experience and other customer events
Press release and photo (2D) gallery after the jump:
Nigel Mansell officially opened Group Lotus's revised and restored Hethel test track with a roar from the 1981 Essex-Lotus 81B in which he started his glorious Formula One career more than 30-years-ago.
Mansell led a convoy of seven stunning racing cars from the Lotus stable, including the innovative 1980 Type 88 twin-chassis car – which the rule makers never allowed to race; the Lotus Type 125 Exos Experience car driven by fellow F1 legend Jean Alesi; and a brace of Lotus Renault GP cars piloted by current F1 stars Vitaly Petrov and Bruno Senna.
This was the first time that modern-era F1 cars had blasted around the historic Hethel tarmac since the early 1990s. The layout of the 2.2 mile circuit had changed very little, with one extra corner added, but the new asphalt and larger run off areas are better suited to modern racing and performance car testing. Its mixture of corners, straight and braking zones makes it ideal for testing and optimizing every performance aspect of the new era of Lotus products, and evaluating car control at the Lotus Driving Academy. In addition to a spacious new workshop, the test track will soon be accompanied by a new pit building and hospitality suite.
Dany Bahar, Group Lotus CEO said: "A year ago we set out our plans to introduce a new model line up, ambitious motorsport plans and a revitalization of the iconic Lotus brand. A year in, we are meeting all the targets and milestones we set ourselves. One of the milestones was the opening of our test track. You might say this is just a refurbishment of a track and not a major achievement in itself, and I agree. However, mentally and psychologically seeing this project accomplished demonstrates that step-by-step our vision is becoming a reality.  It shows our entire workforce and our partners that we are delivering on our promises."
Nigel Mansell, Group Lotus ambassador and 1992 Formula One World Champion said: "What a joy it was to be reunited with my old 81B after 30 years. This is a very special place, Hethel, and it was wonderful to open the circuit today by driving alongside my sons Leo and Greg."
Clive Chapman, Managing Director of Classic Team Lotus said: "I remember my father testing the Lotus 49 on this circuit. He didn't wear a helmet and you could see him grinning from ear to ear because he knew he had another winner. The circuit's longest straight doubled as a runway, and we would land here in my father's plane after adventurous and race tracks around the world. The revised circuit has managed to keep a lot of the character of the original, and seeing those seven cars lapping today is something I shall never forget. Lotus is enjoying exciting times once again, and it fills me with pride when I see brand new Lotus's around the world still bearing my father's initials."
Jean Alesi, Group Lotus ambassador and F1 legend said: "It's extremely fast. The first time I went out I was surprised about the length of the straights, but then of course it's not only for motor sport but for testing road cars. The layout is perfect for that. It's a proper test track. Today I drove Lotus' customer F1-experience car, the T125. The development of this car is ongoing, and very very promising. James Rossiter is doing a great job helping to develop the car, and will make this new track his home. I shall be validating these tests."
Bruno Senna, Lotus Renault GP third driver said: "Vitaly [Petrov] and I got to chase each other around in our F1 cars today, which was awesome. It's a really fun, technical track designed to test the car's handling and braking. I guess this is the first time in many years that a contemporary F1 car has been driven around here. The relationship I have with Group Lotus is very special, to be given the opportunity by these guys who trust my abilities and what I can bring to the team. And we have family history, of course. Ayrton [Senna] made his name with Colin Chapman, and so there is a lot to be grateful to Lotus for. For me, to drive this circuit where my uncle used to test his cars, is a special feeling."
James Rossiter, Lotus Motorsport factory driver said: "The circuit has been completely resurfaced and extended. Now there's a lot more track and you can push harder thanks to that. The thing that makes it so perfect for Lotus is that it has every aspect of corner you can imagine; high speed, medium speed; slow speed; changes of direction at a steady-state, decelerating, and accelerating; you've got a massive braking area at the end of a long straight, with a tight chicane; there are two 190 degree corners, which are long, open and steady-state. So it has a little bit of everything, which is ideal for developing every aspect of a performance car."
Karl Heinz Kalbfell, Group Lotus Operations spokesperson and former CEO of Rolls Royce Motor Cars and Maserati said: "Every time I come back here to see the changes, both in infrastructure and the product, and to see people here driven by Lotus's inspirational goals, it gives me a lot of confidence that we are all on the right track. This is exactly what Colin Chapman would have wanted. He was a man always looking forward, not backwards."