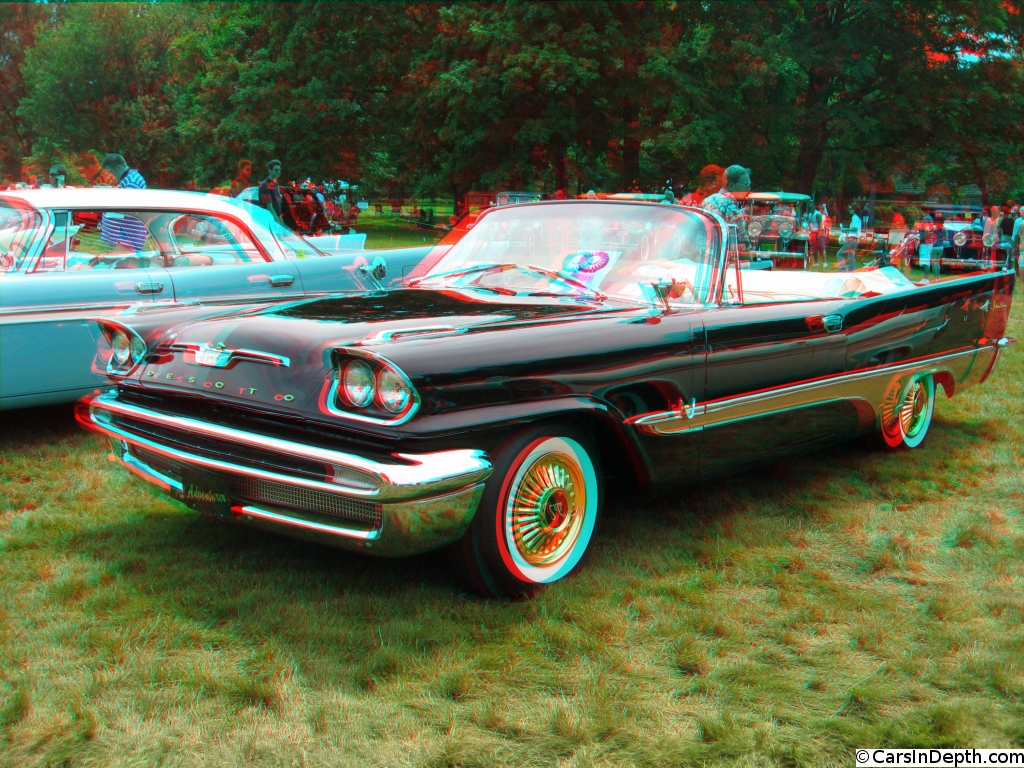 Desoto Adventurer
Click on the anaglyph image to launch a Flash player and view the entire gallery in your choice of 2D or 3D formats.
Virgil Exner Sr. undoubtedly earned his nickname, Virgil Excess. His designs were often over the top and tarted up with automotive gimcrackery like gunsight taillamps perched on tops of fins. On the other hand, his best designs have a purity of line that only a handful of 1950s cars exhibit and his influence was substantial. Most of the Exner/Ghia concept cars, cars designed by Exner or his staff and executed by the Ghia coachbuilding company in Italy fall into that category. Perhaps the most influential designs to come out of Exner's studio at Chrysler were Maury Baldwin's 1955 FlightSweep I & II, that introduced Exner's "Forward Look". Besides setting the mold for Chrysler styling for the next half decade, the Flightsweep cars' influence can be seen at other car companies. Cars had been wearing tail fins since the '48 Cadillac but the Forward Look cars took them to literally new heights.
Chrysler FlightSweep II concept car
Just look at the progression from the '55 to the '57 Chevy to see how the other carmakers responded to the Forward Look. It's possible that the "toilet seat" back deck lid, originally designed to hold the spare tire, influenced Ford's design of the 1956 Continental Mark II, though the Mark II was probably well along in its development by the time the Flightsweep cars were introduced to the public in 1955. This year the Eyes On Design show was featuring, among other featured groups, Chrysler's Forward Look cars. There were Chryslers, Dodges, Plymouths and Desotos that showed both sides of Exner/Excess. There were Furys with clean, pure lines, along with the kind of excessive Imperials that motivated custom builder and designer Murray Pfaff to "cut out all the ugly"  in converting a full size Imperial into his Imperial Speedster. The Speedster, which premiered at the '11 Detroit Autorama as an answer to a "what if?" based on the notion of a two seat Corvette fighter with Forward Look styling, was also on display at the show with its much bigger brethren.