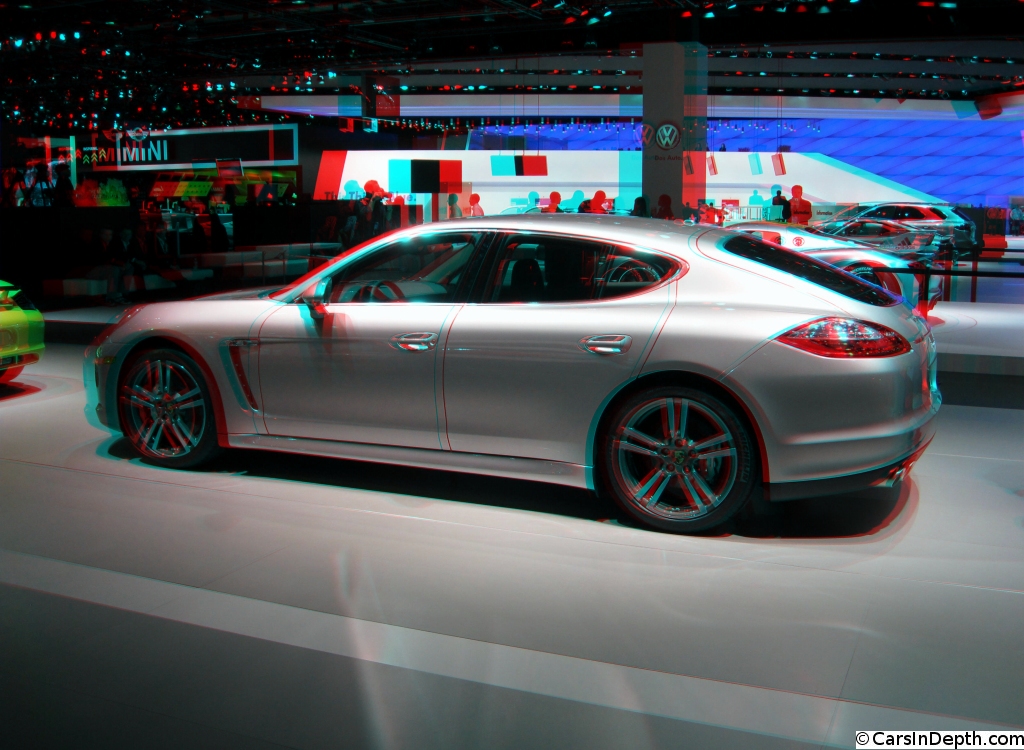 Click on the anaglyph stereo 3D image to launch a Flash player and view the entire gallery in 2D or your choice of S-3D formats.
This is the car that started this web site. No, Dr. Ing. h.c. F. Porsche AG isn't one of our sponsors, but it was seeing the Panamera in person for the first time that got me thinking about starting a 3D site for cars. In real life I work with design. I won't call myself a designer because I've known some actual car designers, but I have a small inkling about what they are trying to accomplish.
Sometimes you see a car design that just doesn't make visual sense. That was the case when just about everyone saw the first leaked photos of the Panamera, Porsche's attempt to take some market share for upscale sedans from BMW, Porsche and Audi. "Hunchback" and "humpback" were only two of the derisive comments showered on the 4 door Porsche's styling.
When I finally saw a Panamera in person I realized that it isn't nearly as ugly in person as it is in two dimensional photographs. That's when the idea for this site started to germinate. Cars are real objects that exist in three dimensions and no photograph nor even a perspective drawing can accurately convey what they look like in reality. That's why Harley Earl started using clay models in GM's Art & Colour styling department. It's also why some "scale" models you buy are not exactly to scale, since some elements don't look good scaled up or down.
The truth remains that the Panamera has some awkward or ungainly angles and at first glance we may be put off by what appears to be a stretched 911, but Porsche designers aren't stupid… or blind. The Panamera may not be the most graceful car in the world, but most folks who have that kind of money to spend tend to be surrounded by nicely designed things. If the Panamera was genuinely ugly in real life, only those impressed more by the brand a product wears than the product itself would buy or lease them, and Porsche sold about 7,700 Panameras in North America in 2010, more than 1/3 of the ~20,000 Porsches sold here.
When I first stepped into Detroit's Cobo Hall for the '11 NAIAS I had a short list of things that I wanted to shoot in 3D. I needed some photos of cutaway engines and of the pretty ladies who staff the displays. The Porsche Panamera was also on that list. With fewer than 10,000 in North America, most people have never seen a Panamera in person and I'd safely guess that most people who say "the Panamera is ugly" have not actually seen one in three dimensions.
Does this change your opinion at all?