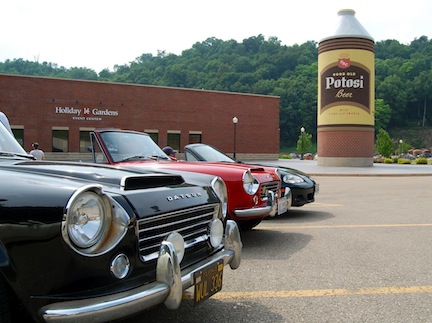 Today brought another Sunday drive for the 2-Seater Sports Car Group, a very informal car club from Madison, Wis.  When I drove with the club earlier this year, I was surprised to see a fairly well preserved Datsun 1600 roadster and even more surprised to see it easily keep up with more modern and more powerful cars.  Today's drive saw not one, not two, not three but six 1600s show up and all of them were up the challenge of a solid day of vigorous driving.
The drive started out, as before, in Middleton, Wis., on the northwest side of Madison.  From Middleton you can quickly head out into the countryside and enjoy some of Wisconsin's most beautiful scenery and diabolically twisty back roads.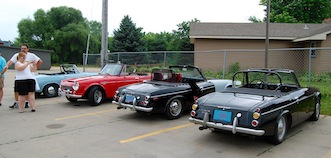 An hour and a half into the drive we stopped in Mineral Point to take a brief break and hook up with a contingent of 1600 owners from southern Wisconsin and northern Illinois who would stay with us the rest of the day.  From Mineral Point we headed for Potosi, Wis., for lunch at the restored Potosi Brewing Company.  Beer had been brewed in Potosi since 1852 under various brewers but production ceased in 1972 and the property fell into disrepair.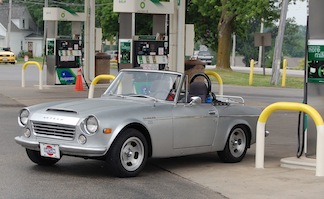 The buildings have since been restored and brewing has resumed in this tiny little town along the Mississippi River in southwestern Wisconsin.  The brewery operates a pretty decent restaurant and also houses the American Breweriana Association's museum dedicated to the history of brewing in the U.S.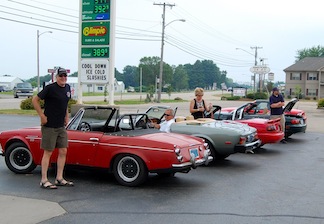 As for the 1600s, all six of them performed almost flawlessly under fairly strenuous driving on a very hot day.  We experienced a little rain off and on during the drive and at one of the breaks our organizer let us know that if drivers wanted to make a stop to raise convertible tops he would allow a one minute pull over.  The 1600 drivers, however, made it clear that they would keep on driving.  It seems that the 1600's convertible top is as complicated as any British roadster's and takes more than a few minutes to erect properly.  Their solution?  Just drive faster and keep the rain in your slip stream.
I decided that if it worked for a Datsun 1600 it would work for a 2001 Miata, so I kept my top down the whole day, too.