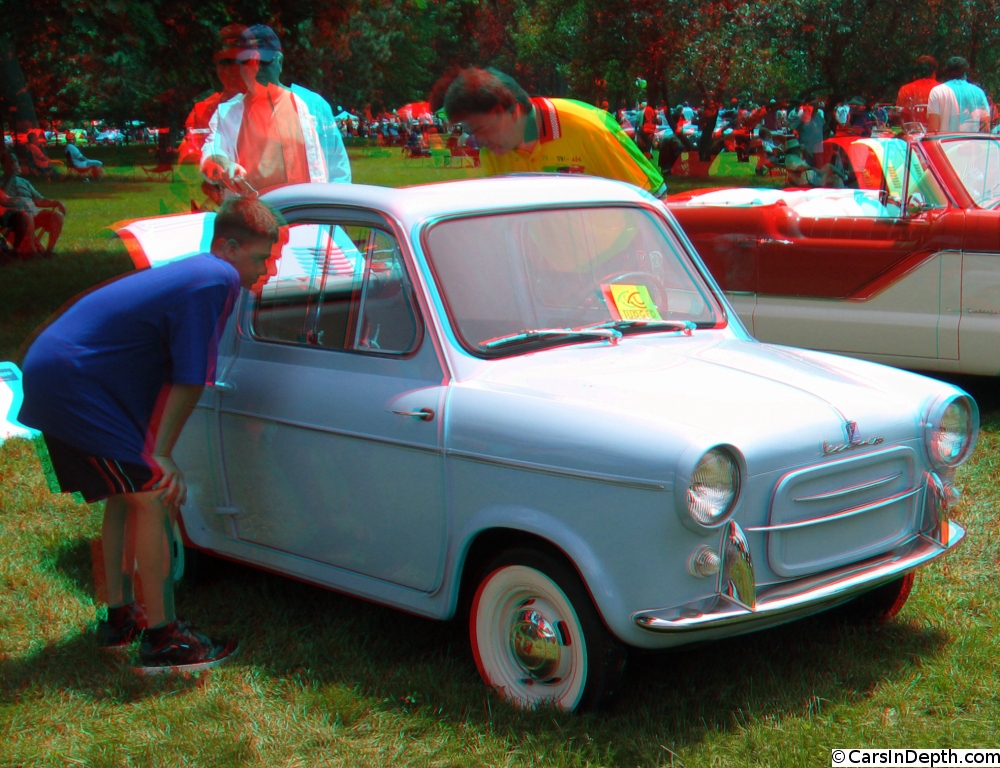 Click on the anaglyph 3D image to launch a Flash player and view the entire gallery of photos in your choice of 2D or 3D formats.
One of the featured categories at this year's Eyes On Design show was microcars. Though the Nash Metropolitan and Fiat Topo in the group were really more mini than micro, there were some genuine microcars, like an Isetta and these Vespa 400s, made in France by a licensee of the Italian scooter maker. Unlike most of the microcars built in in the 1950s and 1960s, the Vespa 400 was not cobbled together from motorcycle or scooter parts but rather it was engineered as a car from scratch. Actually, a fairly sophisticated car according to Hemmings:
The Vespa 400 was a car from its first inception and features a vertical twin-cylinder two-stroke, air-cooled engine unique to this particular model.The Vespa 400 featured technologically advanced construction and suspension technologies. Like the scooter it shared its name with, the Vespa 400's sheetmetal body also comprised its backbone, the true monocoque inspired by Piaggio's aircraft heritage. Unit-body construction allowed the Vespa 400's chassis to be light and strong. The car's suspension was independent at all four corners, supported by coil springs. Even the tiny 4.40 x 10-inch wheels were unique to the car, and shared no elements with the scooter.

The 394cc engine developed a blistering 14hp, and the top speed of 50 mph accumulated in a leisurely 25 seconds through the Vespa 400's three-speed gearbox (a four-speed was available outside the United States). Nevertheless, as long as your rear passengers were small, you could fit a family of four inside, provided you weren't big eaters. Storage space was limited, thanks to the 12-volt battery that sits inside a drawer accessed from the car's nose. It was all business from the driver's seat, with an unadorned steering wheel, a simple speedometer, a generator light, a fuel light (with no gauge), light and wiper switches and a hole in the dash for a glovebox. All Vespa 400s feature a roll-top convertible roof that opens the entire roof all the way to the rear decklid.

Piaggio introduced the Vespa 400 at the Paris salon in 1957 and managed to sell 12,000 400s in the first year. By the close of production in 1961, 28,000 units found their way into the hands of customers.