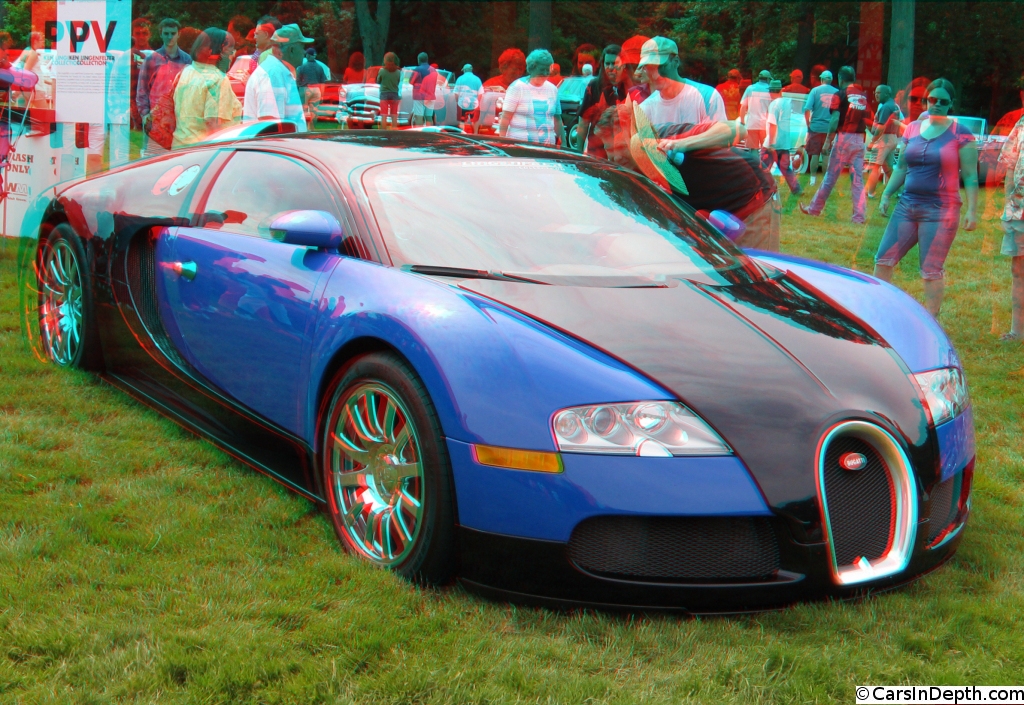 Click on the anaglyph 3D image and launch a Flash player to view the entire gallery of photos in 2D or your choice of 3D formats.
Before Jerry Garcia died, you'd occasionally see a bumper sticker on a Deadhead's VW Bus that read "Who are the Grateful Dead and why are they following me around?" I'm beginning to feel that way about Ken Lingenfelter's Bugatti Veyron. I saw it at the Eyes On Design show last month and just yesterday it was one of the cars at the media preview for the upcoming Concours d'Elegance of America at St. Johns. Though the Veyron leaves me curiously cold for a state of the art performance car, it does make a bold visual statement and the car does have some very well executed shapes. I particularly like the way the rear end, sail panel and rear fender flare are integrated with each other. At the media preview I got the chance to speak to Mr. Lingenfelter and he graciously offered to make his extensive collection of rare and exotic performance cars available to Cars In Depth for a photo/video shoot. I'm sure we'll be taking him up on the offer sometime in the near future, but in the meantime, enjoy these stereo photos of his Bugatti. As with our shots of his Lamborghini Reventon, these are most likely the only 3D photos that currently exist of the Franco-Germanic ultimacar.
At the media preview, the Veyron was sitting across from an earlier example of a cost-no-object automobile, the Duesenberg Model J, which is covered in a post below. It was an interesting comparison. Both cars were designed to have maximum performance (yes, I know, the Model SJ was supercharged, but work with me) while being built to sybaritic levels of luxury. Fred and August Duesenberg built some of the finest machines of their day and I think they'd appreciate the Veyrons technological overkill. Actually, there's a connection between Bugatti and Duesenberg. Though Fred Duesenberg was acknowledged to be one of the world's leading engine designers in the early days of the automobile and auto racing, during World War One, the Duesenberg company built aircraft engines under license from Ettore Bugatti, for the French government, and that engine significantly influenced the construction of the magnificent Duesenberg Straight Eight.