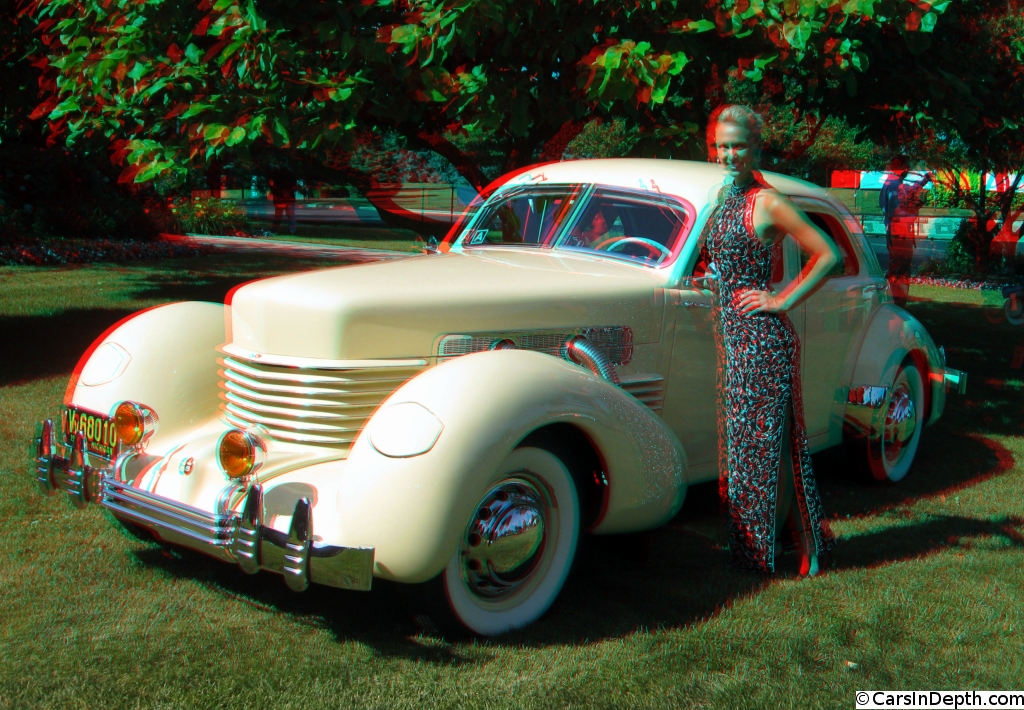 Click on the anaglyph 3D image to launch a Flash player and view the entire gallery of photos in 2D or yourchoice of 3D formats.
The Cord was a failure.  It ranks right up there with the Tucker, the Davis, the Bricklin, the Delorean, even the Edsel.  It was only built for a few years, from 1929-32 and again from 1936-37, never sold in significant numbers and, despite some advanced design and engineering features, made no lasting impression on the auto industry.
Or did it?

Start the video, then pause. Click on the 3D icon on the YouTube player's menu bar to select 2D or your choice of 3D formats.
E. L. Cord grew up with the nascent auto industry and had a passion for cars.  As a young man he customized and raced Model T Fords in southern California.  His love of automobiles landed him a job in Chicago selling them and his success there led to a job in Milwaukee running an auto distributorship.
By 1924 his forays in the car business caught the attention of a group of financiers who were trying to turn around their struggling Auburn Automobile Company in Auburn, Ind.  Cord scoffed at their offer of a top position at Auburn and held out for greater control of the company, a cut of the profits and an option to buy.  His suitors gave him everything he wanted and Cord delivered.  He quickly got the company back on its feet and plowed profits into the purchase of other transportation industrials such as an airline, an airplane manufacturer, a ship yard and more.
Oh, and he exercised his option to buy the company.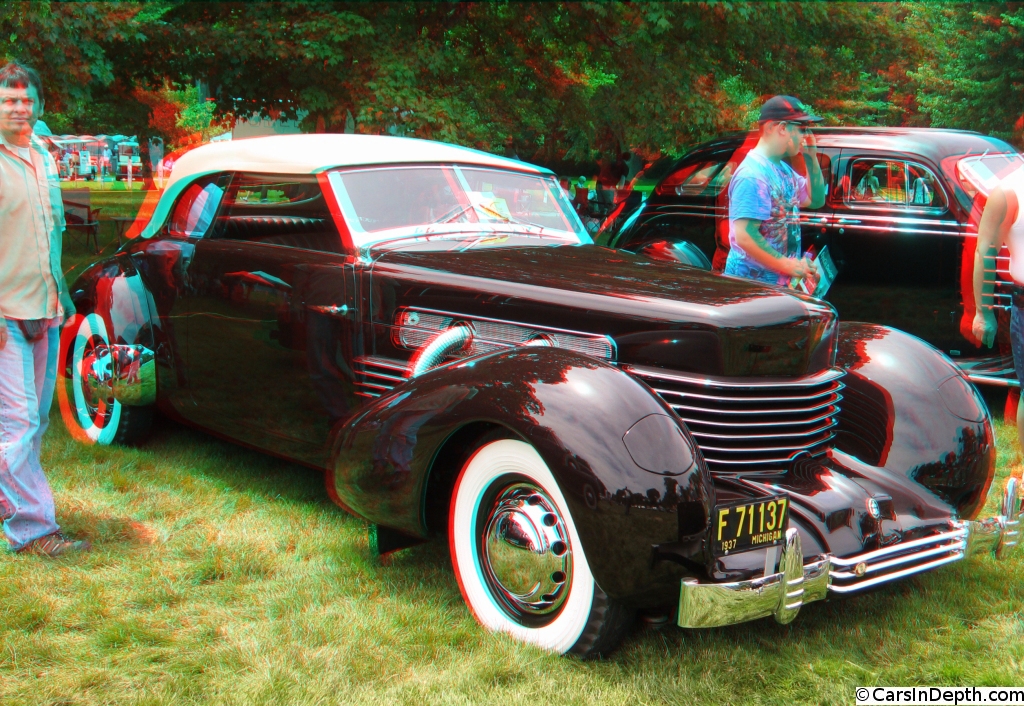 Click on the anaglyph 3D image to launch a Flash player and view the entire gallery of photos in 2D or your choice of 3D formats.
In 1929 Cord introduced his namesake line of cars as a division of Auburn.  The Cord L-29 was the first front-wheel drive American automobile.  Powered by a 120 hp, 4.9-liter inline 8-cylinder Auburn engine, the L-29 was quite heavy at nearly two and a half tons and wasn't as fast as some similarly priced premium cars.  Still, the car had beautiful styling and in the best of times that would be enough to make it a hit.  Unfortunately, of course, the early 1930s were not the best of times and over its three year run, fewer than 5000 were sold.  The L-29 was discontinued in 1932.
Cord's company brought the Cord name back to the automotive market with the Model 810 in 1936, the one most people think of when they think of Cord.  Originally conceived as a sporty Duesenberg model, the 810 was designed by Gordon Buehrig and, like the L-29, featured front-wheel drive as well as the industry's first hidden headlights.  The front-wheel drive train allowed Buehrig to design a car that was much lower than its contemporaries and looked light years more modern.  Other notable styling features were its "coffin nose" hood and grille design and large, individual chrome exhaust pipes on supercharged models.
The Cord 810 was greeted enthusiastically by the public when it debuted at the 1935 New York Auto Show.  Unfortunately, the 810 wasn't quite ready for production and Cord was late in delivering pre-ordered cars.  Worse, problems with the car's unique semi-automatic transmission hadn't been resolved and early buyers were plagued with transmission issues and other problems.  After a run of barely 3000 units, Cord production ended in 1937.  E. L. Cord sold his entire operation and moved to California where he made a killing in real estate. He still remained friendly with colleagues in the auto industry, particularly GM stylist Harley Earl. One of the GM Motorama cars in the collection of Joe Bortz passed through Cord's possession, having been gifted to him by Earl.
So why isn't the Cord considered a failure like so many other defunct ventures?  For one thing, E. L. Cord wasn't a crook, a charlatan or a starry-eyed dreamer.  He was a very successful and practical business man with a solid track record of making money in a variety of venues.  More importantly, though, the cars that bore his name were just too beautiful in every way to ever be considered failures.  Three-quarters of a century after the last one was built, they are still deeply admired, not just by a small circle of enthusiasts like the Tucker, but by almost everyone who is lucky enough to lay eyes on one.
Editor's note: These Cords were photographed at the 2011 Eyes On Design show and at the media preview to the upcoming Concours d'Elegance of America at St. John's in Plymouth, Michigan. You really have to see a Cord in person (or in S3D) to fully appreciate the art-deco masterpiece that it is. One of the nice things about having talented writers on the team here at Cars In Depth is that when I find a cool car I can let someone else write the text that accompanies our stereographic 3D content and know that the readers will be entertained at least as well as I could do, probably better. I asked Marty Densch if he'd like to take a swing at Cord, he jumped at the opportunity and I think you'll appreciate the results.