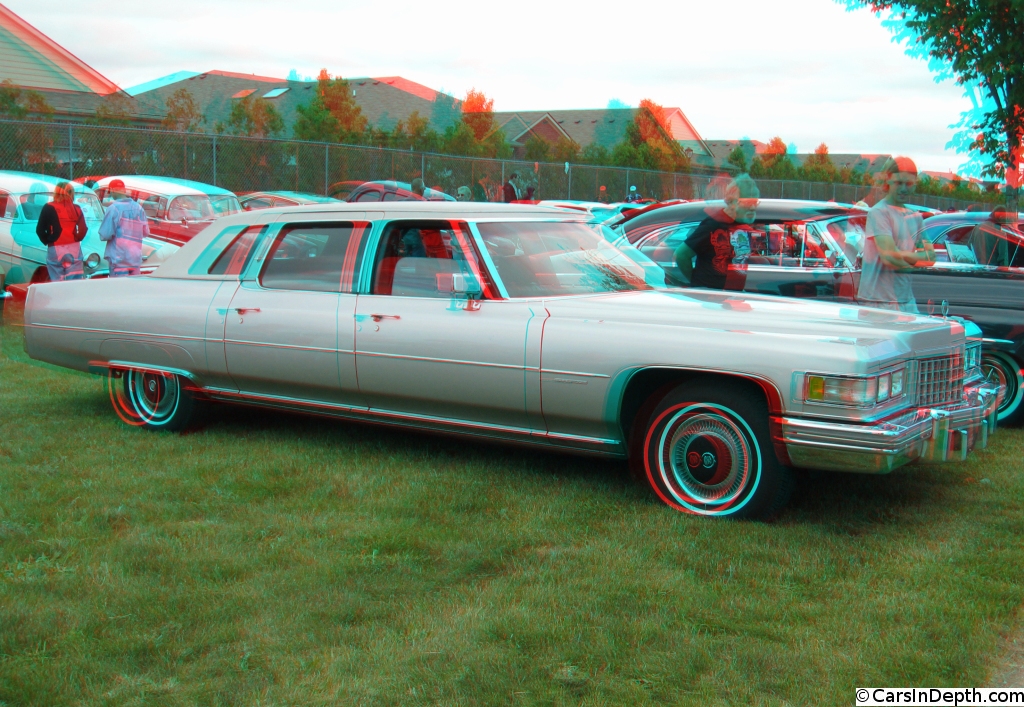 Click on the anaglyph S3D (stereographic 3D) image to launch a Flash player and view the entire photo gallery in 2D or your choice of 3D formats.
I've been hanging around Lincolns while Jack Baruth over at TTAC (here, here,  here and particularly here) has been waxing prosaic (in the best sense of the word prose – or maybe he's just waxed on the automotive equivalent to Prozac) about big Cadillacs, particularly the 1976 Fleetwood Sixty Special Talisman. That's a fine ride indeed, but as Jack pointed out in his even finer review of the Sixty Special Talisman, that was the penultimate step on Alfred P. Sloans ladder, just below the ne plus ultra Seventy Five Limousine, built at the same Fleetwood assembly plant.
Jack sizes up the mid 1970's Cadillac hierarchy thusly:
You're looking at a Medici velour interior. That's the stuff Cadillac put in their factory-built Fleetwood limousines, and that's what makes a Fleetwood Sixty Special a "Talisman". Dissect the model name. "Fleetwood" means it's above the common-and-garden Calais and deVille. It looks similar, but it's a few inches longer. Why? Just because. Today, we'd carp that the two different wheelbases for production Cadillac RWD sedans represented a production inefficiency. Back then, it was important to distinguish vehicles which otherwise weren't all that different. And since Cadillac was still doing the seven-seat limos in-house, it seemed reasonable to offer multiple wheelbases.

"Sixty Special" meant that it was a town car. Not a Town Car, mind you, a "town car" as opposed to the Fleetwood Seventy-Five limo. This was an era where "limo" didn't mean "tacky prom night special". It meant a car for a man with a driver. There were plenty such men, mostly commuting from places like Rowayton or Sausalito, and plenty such drivers. But this Sixty Special was meant to be owner-driven.

Think of a Talisman as a Sixty Special with Seventy-Five interior appointments.
So if a Talisman was a Sixty Special with Seventy-Five levels of trims and fitments, the only step up was the Seventy-Five limo. I've been posting photos of great, big and great big Lincolns this weekend, but in honor of Jack's fine tribute to one of the last big Caddys, I'm running these shots of a real 1976 Cadillac Fleetwood Seventy Five limo in all it's huge splendor, photographed at the Packard Proving Grounds' Cars 'R' Stars show last month. If you want a big Cadillac, brothers and sisters, it doesn't get any bigger than this. One hundred and fifty one point five inches of wheelbase and 252.3 inches from bumper to bumper, just 111 pounds shy of three tons. Now that's a fact, Jack, this is one big Cadillac.