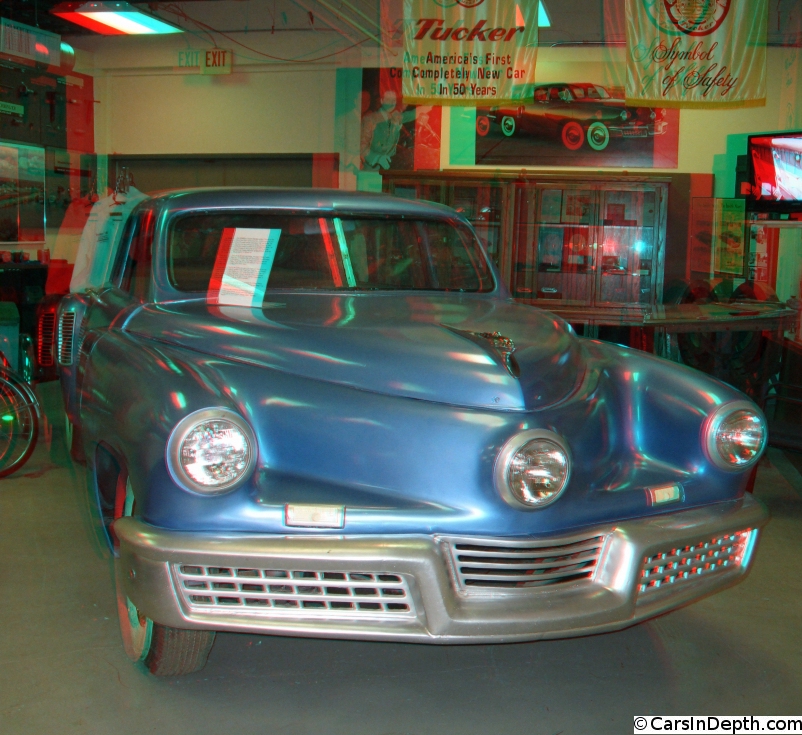 Click on the anaglyph S3D image to launch a Flash player and view the photo gallery in 2D or your choice of stereographic 3D formats.
Yesterday, Marty Densch's looked into the story of Tucker #57, only one of the mysteries and legends surrounding the Tucker Torpedo and entrepreneur Preston Tucker. Tucker #57 is tied to the story of the controversial convertible Tucker that Marty wrote about for Jalopnik. If the Tucker convertible is not authentic, at least it's based on a real Tucker car. Here's a "Tucker" that's really a Ford. When director Francis Ford Coppola made Tucker: The Man and His Dream, he had four replica Tuckers made, with fiberglass bodies mounted on Ford chassis. The Ypsilanti Automotive Heritage Museum has a display dedicated to Tucker. Considering that the Tucker Corporation only lasted 3 years and assembled less than 60 cars, the museum has a surprisingly large number of Tucker artifacts.
Preston Tucker was from Ypsilanti, his family owned Ypsilanti Machine and Tool Company, and initial design and development of the Tucker Torpedo was completed in Ypsi, before production started in Tucker's Chicago factory. The display includes a drafting table, bookcases, a heavy duty tricycle used by the Tucker automobile company, as well as Tucker promotional items, styling and engineering drawings as well as ephemera like advertisements and newspaper clippings. The centerpiece of the museum's collection is one of the Coppola replicas. We originally posted these as an update to Marty's Tucker #57 post, but the Ypsi museum is one of those lesser known car buff sites around Michigan that is filled with unexpected treasures and more people should know about it. Housed in the last remaining Hudson dealership, in addition to focusing on independent brands like Hudson and Kaiser Frazer, the museum is a timepiece that shows you exactly how a 1950s era car dealer was, with service bays and parts counter intact.  Definitely worth a visit.