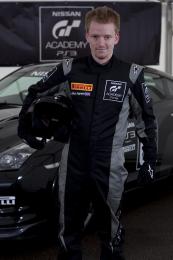 [Editor's Introduction: Alex Ingram is Cars In Depth's in-house sim racing ace. I don't want to embarrass him, but it's probably not an exaggeration to say that he's one of the world's best video racers. When I started discussing the possibility of a review with the nice folks at iRacing, the logical choice to do the review was Alex. That's sort of why we have him here in the first place – for expert opinion on sims, video racing and how they relate to driving on the track in the real world. In the meantime, while I was working with iRacing to get Alex set up with access to their site from his new apartment, I mentioned that I wasn't much of a video racer but if they thought a 'newbie goes sim racing' review had potential, I still had a old Logitech wheel and pedal set and that I was willing to give it a go. I'm slowly working my way through the iRacing Driving School tutorials (you can see them on YouTube). They're helping. I can now make it around the skid pad without (well, usually) putting it into the wall. I might well be the world's worst sim racer. Still, when you have an expert available… so I asked Alex for a few tips and he graciously offered to help me get up to speed, literally. This will hopefully be the first installation of a regular sim racing advice column by Alex.]
Our Sim Racing School will get into more advanced techniques later on, but there are some fundamentals that will help you get up to speed quickly. Though these tips are focused more at novice racers, they will continue to be useful as you gain racing speed and skill.
Firstly, this may seem obvious but its worth a mention anyway, if there are any circuits you are familiar with (say, from watching motorsport on TV) then I would try to learn to race on these first. Things will be far more difficult when you are trying to get used to a game and trying to learn a new circuit. If the sim or game has an option to display a map of the track and your position, use it, at least until you learn the course. You can't pick out a good line if you don't know where the track is going.
Secondly, if at all possible, start in a low powered, and ideally, front-wheel drive car, just as I suppose you would if you were intending to try track driving for real for the first time.  For reference, the first time I ever went out on track for real, in a real car, I was in a Seat Leon Cupra R, they have 240bhp and it shares its platform and running gear with the VW Golf (Rabbit) GTi. Front wheel drive may be handy until you have gained a decent level of throttle control, as a leaden right foot has less of an adverse affect with FWD.
When you are racing in a sim or game that is realistic in terms of vehicle dynamics, one thing that will help you go quickly is to remember that you need it to treat it like a real car at all times, so be smooth with all of the controls, aim to get all of your braking done before the corner, then power through to get a good exit onto the following straight. [Editor's Note: Our colleague here on Cars In Depth, Jack Baruth, teaches real track driving and says that you can brake and you can steer but that you should avoid doing both of them at the same time on a race course.]
While the car's dynamics and track may be realistic, the flip side of this is that unlike in reality, in a sim you have no real fear of crashing or getting hurt, so it should be easier to reach the limit of a car's capacity.
Once you've become a little more confident, one thing that could help is to hop into something more powerful and rear-wheel drive and try some 'drifting.'  Forcing the car to slide will give you a feel for how it reacts, and how to deal with it, what inputs cause understeer or oversteer ("tight" or "loose" in NASCAR parlance), how far you can push it and still bring it back, and what, in terms of acceleration, steering and braking inputs will send you out of control. This will inevitably end up resulting in many spins (crashes too) but it should be beneficial in the long run.
If the sim or game has, like iRacing does, a skid pad, every time you try out a new car, check it out on the skid pad in both directions and and different diameters and speeds. The skid pad is also a good place to learn techniques like trail braking, since there is a lot of open space without having to worry about going off the course when you spin.
I hope these tips help you enjoy your sim racing experience. It's no fun if you can't go fast or if you keep crashing. These tips will hopefully help get you started and getting around the track safely and fast enough to be able to start focusing on gaining speed and racing with other drivers. If you have any questions about sim racing, leave a comment and I'll try to address them in a later column.