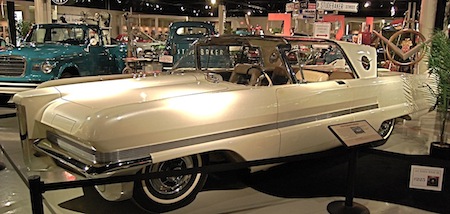 Dick Teague is best known for his work at AMC where he produced designs of almost elegant simplicity. His work there was typified by clean, simple lines devoid of affectation.  So where the heck did this come from?
Necessity is said to be the mother of invention, and Teague's designs for AMC were probably born as much from the manufacturer's financial constraints as from the constraints of his own good taste. If you are looking for evidence of that, look no further than the Packard Predictor, penned by the same hand and mind that created the 1964 Rambler American.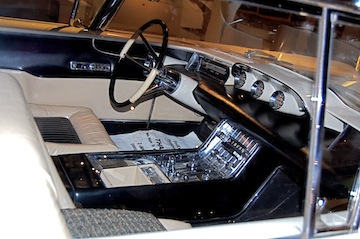 The 1957 Predictor was one of Packard's last, futile attempts to stimulate interest in its products. The brain child of Packard design boss Bill Schmidt, the Predictor was built by Ghia and made its debut at the 1956 Chicago Auto Show. Most of the design credit goes to Dick Teague who had been with Packard since 1951.
The Predictor actually ran, although not very well, and was powered by a 352 cubic inch Packard V-8 producing 300 horsepower. It featured a push-button transmission, reversible seat cushions, sliding roof panels which would move out of the way for easier entry and exit and a retractable rear window.  Its many servo motors didn't always work properly and frequently shorted out.
Predictor was an appropriate name for the car as many of its design elements were later found on other cars. The most obvious is the design of the roof and retractable rear window which ended up on the 1957 Mercury Turnpike Cruiser, the 1958 Continental Mark III and the Mercury Breezeway. Interestingly, Ford is the one company for which Teague had never worked.
The tail fins look for all the world like they belong on a Chrysler product. The hidden headlights could easily remind one of the 1963 Corvette's and the pronounced proboscis predicted the Edsel's ox yoke grille, although it must have influenced later Pontiac design, as well.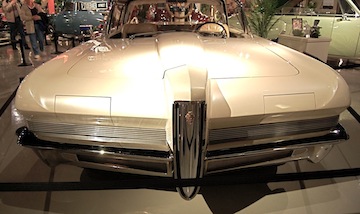 Whatever influence the Predictor had on the design of other manufacturers' cars, it did nothing to stave off Packard's demise. By the time the Predictor had finished touring the auto show circuit, production at Packard's plant on East Grand Boulevard in Detroit was all but finished. Teague later recalled that the design department was the last to leave the facility because management still clung to hopes of a resurrection.
Such a resurrection was not to be, of course. The 1957 and 1958 Packards were grotesquely altered Studebaker Presidents, not the ultra-modern dream cars that Teague's Predictor had . . . well . . . predicted.
The concept car became part of Studebaker's archives and is now on display at the Studebaker National Museum in South Bend, Indiana.