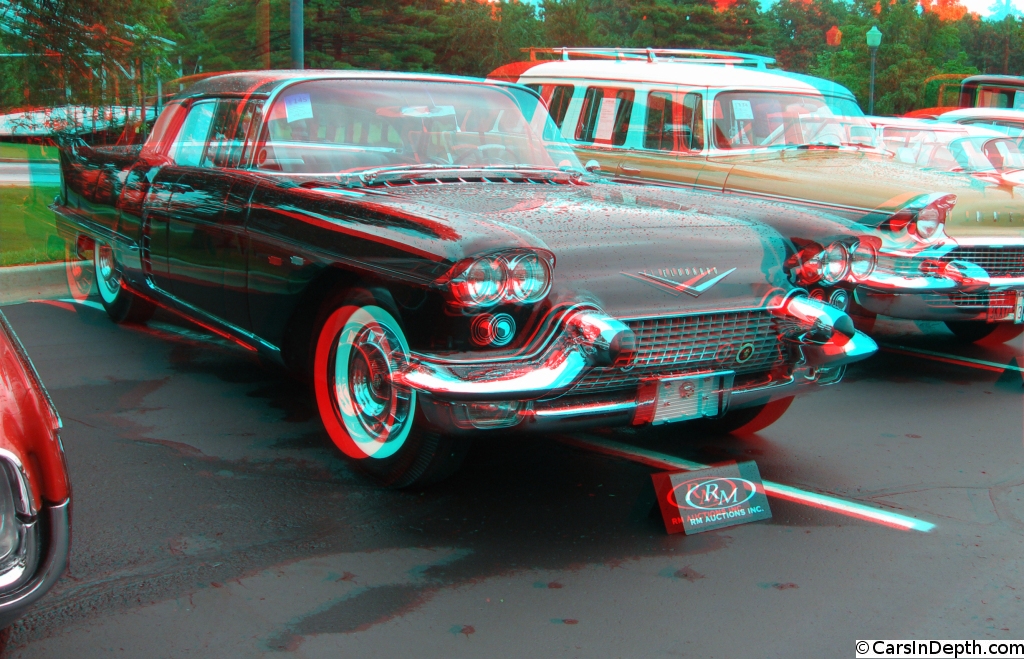 Click on the anaglyph stereographic 3D image to launch a Flash player and view the entire photo gallery in 2D or your choice of S3D formats.
We've done a few posts recently about the 1956-57 Continental Mark II. Though it's considered one of the best postwar designs, Ford lost at least $1,000 on each and every one, even with a $10,000 MSRP, more than twice the cost of a Thunderbird. Well, the 1957-60 Eldorado Brougham was almost as if General Motors wanted to show Ford that they weren't the only ones who were able to lose money while selling an extravagantly priced personal luxury car. The Eldorado Brougham also cost more than twice what another GM product cost, though in this case it was the Cadillac Eldorado Biarritz, a considerably fancier car than the Thunderbird, which though relatively luxurious was still a Ford, not another Lincoln. With an MSRP of $13,974 the top of the line Eldo was even more expensive than a Rolls-Royce. To give you an idea of how expensive it was, the Consumer Price Index inflation calculator puts that as equivalent to over $112,000 in today's dollars. Now that's hardly an ultra-expensive car by today's standards, but it's still more expensive than even the most option laden Caddy you can buy at this time.
Inspired by the 1955 Brougham Motorama show car, it was low slung, hand made, and brimming with some of Harley Earl's favorite styling cues, with a wraparound windshield, bumpers straight from the LeSabre concept car, a low cut beltline and chrome capped tail fins so pointy they should have come with red warning flags. Though it has the look of a pillarless coupe, the Eldo Brougham is a four door, with two suicide doors that give access to the back seat. The roof was unpainted stainless steel – Delorean was not the first to use that rustproof gray metal for styling purposes. It's a very sharp looking car. You can see just why Cadillac was such an aspirational car. The only thing that I'd change would be to give the Dagmars some breast reduction surgery – they overpower and distract from the rest of the front end's styling.
The Eldorado Brougham exceeded the Continental Mark II in just about every way. The Mark II lost Ford about $1,000 a copy. The Brougham lost GM an estimated $10,000 on every one they sold. Ford sold a few thousand Mark IIs. Cadillac sold only 400 in the first year of production, and less than 200 a year in the remaining production run, as the 1957-58 recession hurt all luxury car sales. Of course GM could easily absorb the $9 million loss on the Brougham, about twice what Ford lost on the ill fated Continental division.
This particular Eldorado Brougham went on the auction block today at RM Auctions sale in conjunction with the Concours of America at St. John's. Results haven't been published yet but RM estimated the value of the car at $90,000-$120,000. In a curious coincidence that's very close to that $112K that the car's original MSRP would be in 2011 dollars. I doubt any of the original buyers in 1957 were concerned about having a hedge against inflation but it looks that as extravagant as they were, if there are any one-owner Eldorado Broughams, they probably haven't lost any money on their car.