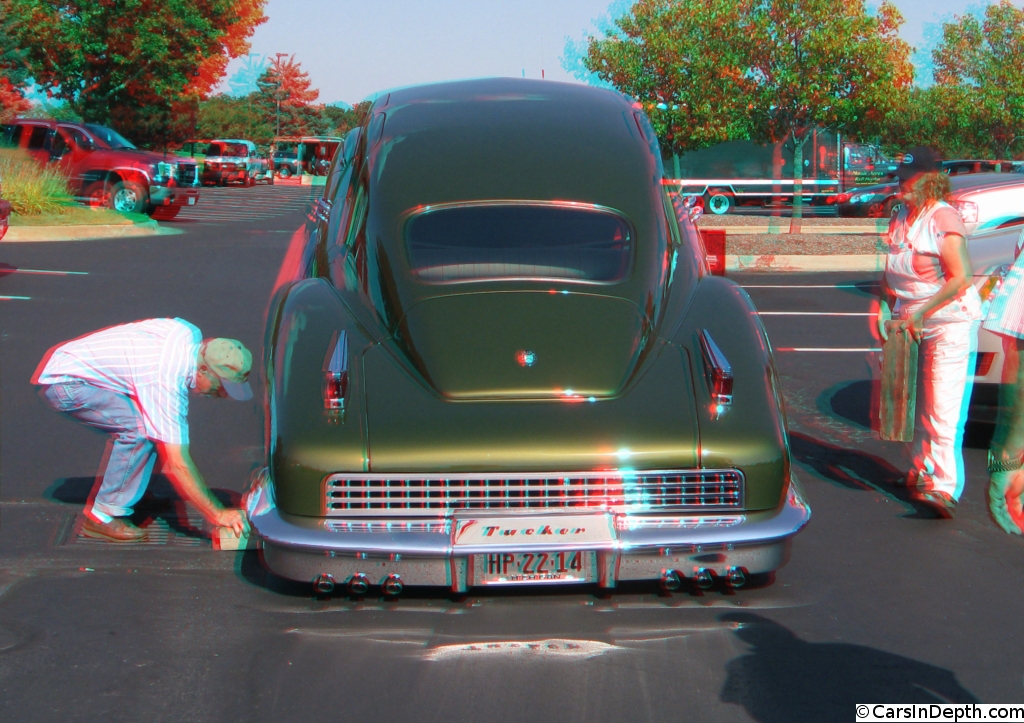 Click on the anaglyph stereographic 3D image to launch a Flash player and view the entire photo gallery in 2D or your choice of 3D formats.
We showed you the fiberglass Tucker replica used in the filming of Tucker: The Man and His Dream. Now here's a real Tucker, one of the best that exist. How do I know that? Because it was in the Concours d'Elegance of America at St. John's, in Plymouth, Michigan formerly the Meadow Brook concours. If it's at that show, it's got to be one of the best of its kind. The show has moved its location but it's still one of the top three car shows in the United States along with Pebble Beach and Amelia Island. If anything, the quality of the show has improved. Meadow Brook Hall, built by John Dodge, may be one of America's great homes, but St. John's, a former seminary converted into a convention center/hotel/golf course, has more amenities. This green Tucker Torpedo has been displayed at Meadow Brook before and it is no doubt in better shape than when Preston Tucker watched it leave his factory in Chicago. As the owner started driving it up the trailer ramps during the show's loadout, I realized that I was getting an elevated view of the car that is rarely seen. You can really see the tear drop shaped greenhouse that Alex Tremulis set on top of rest of the design.
I think that it preserves a bit of the prewar fastback style while adding some aviation inspired aero look, and at the same time moving towards the distinct rear deck and the "three box" design most notably associated with the '49 Ford. I also think that the taillights, perched in chrome housings on top of the rear fenders, anticipated the tail fin craze. The Tucker was being designed at the same time as the 1948 Cadillac, usually considered the first car with tail fins, according to GM lore, the result of Harley Earl's staff doing illustrations for the military during WWII and being inspired by the P-38 Lightning. It's possible that Tremulis was also inspired by aircraft. Most of the early engineering and development of the Tucker took place in Ypsilanti, not far from Willow Run, where Ford's huge assembly line had only recently rolled out one B-24 Liberator an hour.
To get a clue about the level of preparation most cars have at the Concours of America, that bumper is so polished that you can practically read the reflection of the Tucker script on the asphalt pavement.