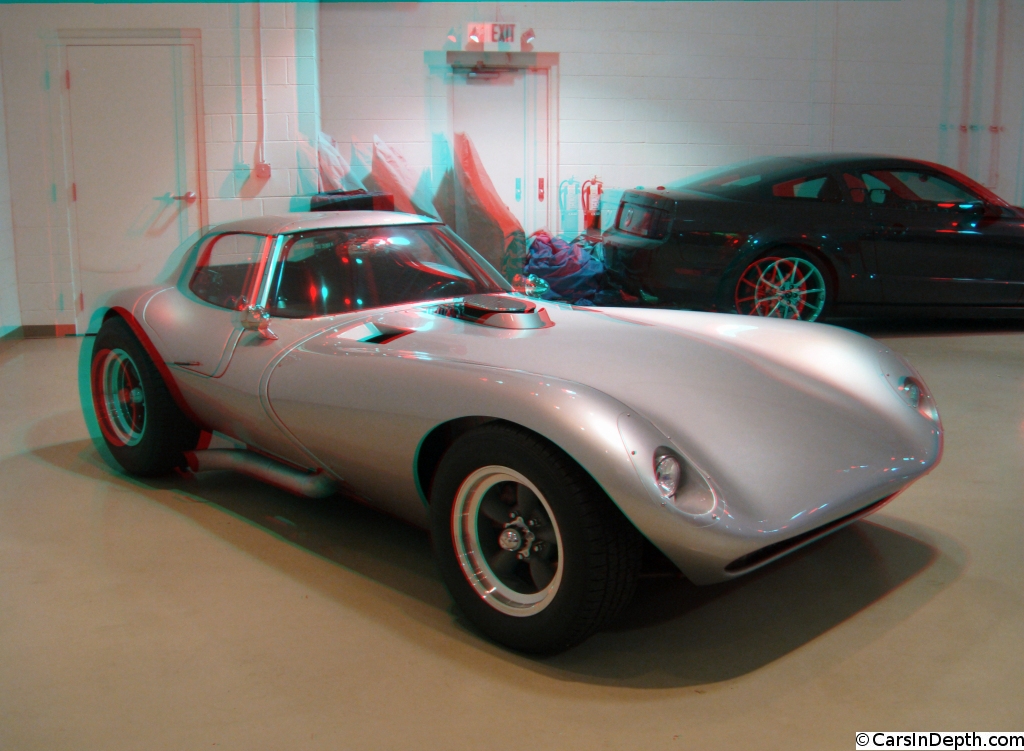 Click on the anaglyph stereographic 3D image to launch a Flash player and view the entire gallery of photos in 2D or your choice of S3D formats.
When I found out that this Bill Thomas Continuation Cheetah was for sale only a few minutes from Cars In Depth world headquarters, I headed over to Grandsport, a performance car dealer in Southfield, Michigan that specializes in high performance Porsches. They represent Ruf in the US and also sell Intermeccanica bathtub Porsche replicas. The car is currently listed on eBay for $89,000. It's one of 31 that were made under license from Cheetah creator Bill Thomas using the original molds and fixtures.
Start the YouTube 3D player and click on the red 3D icon that appears in the menu bar to select 2D or your choice of 3D formats.

From eBay:
This is a 2008 built Cheetah continuation, number 30 of the 31 built. Titled in Michigan as a 1964 BTM Cheetah. Only 865 miles on the car. The car is painted in Mercedes silver with 3 coats of clear, period red racing seats and belts. Keeping with the Corvette heritage, it is powered by a small-block Chevy 383 making 350hp. Holley dual-feed 4 barrel; 3.34 posi rear end; Muncie close-ratio 4 speed; 9×15 American Racing wheels w/Radial TA's and a complete second set with Hoosier track slicks. Footwells are double insulated and the headers are double asbestos wrapped to control cabin heat combined with a period correct air-conditioning system compensates for the fixed windows. This car is spotless PERFECT, look at the photos of the powder coated tube chassis! A piece of American road racing history.