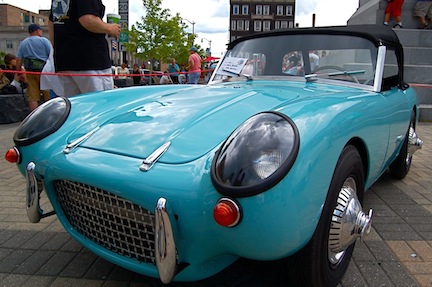 This little beauty has been a fixture at microcar shows in the midwest for several years now.  It is a 1958 Berkeley, a 2-seat roadster that was produced in England in the late 1950s.
Early Berkeleys were powered by 2-cylinder, 2-stroke motorcycle engines displacing either 322cc or 328cc, depending on when the car was produced.  Later versions, such as the one pictured, were fitted with 492cc 3-cylinder, 2-strokers.  All versions had their engines mounted transversely up front driving the front wheels and all were air cooled.
The fiberglass monocoque body featured a 4-wheel independent coil spring suspension that is said to have endowed the light-weight (700 pounds!) roadster with superb handling.  Early models had column-mounted 3-speed transmissions but later models were equipped with 4-speeds with floor mounted shifters.
Being British roadsters, Berkeleys were somewhat trouble prone.  The later 392cc 3-cylinders, in particular, were notorious for overheating, especially in the hands of ham-handed American owners.  U.S. authorities even blocked the shipment of a load of Berkeleys over alleged design issues.
Reliability issues weren't the only problems facing the Berkeley's manufacturer, a company which also produced travel trailers, and poor sales forced the company out of business in 1960.
Only about 2000 of these roadsters were produced and of those, probably just a few hundred still exist.  Nothing in the automotive world ever goes completely unloved, however, and despite the Berkeley's limited success in its day, the car has a loyal and enthusiastic following today.