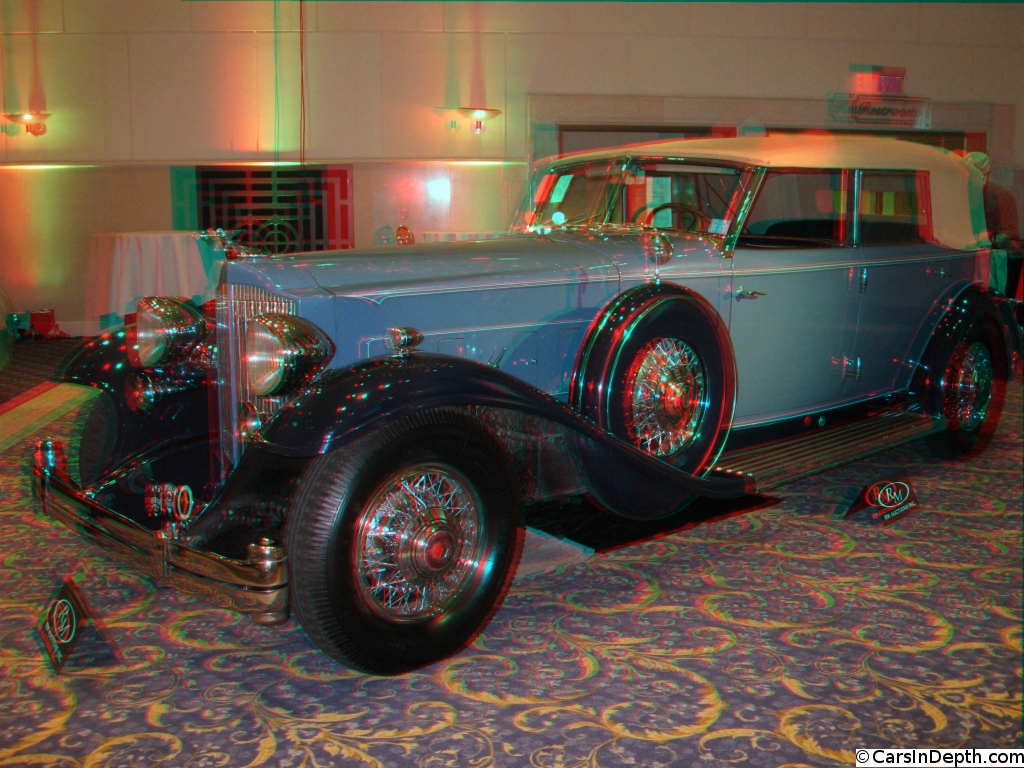 Click on the anaglyph stereo 3D image to launch a Flash player and view the entire gallery of photos in 2D or your choice of S3D formats.
Sanjay Mehta asks, over at TTAC, concerning the Bugatti Veyron that he had the pleasure of driving, "can any car, no matter how good, be worth one million dollars?" That's a good question. Here's a car that is how someone answered "Yes!" to that question, a 1932 Packard Twin Six Individual Custom Convertible Sedan with a body by Dietrich, said to be the ultimate 12 cylinder Packard, delivered new to entertainer Al Jolson. It sold for $1.1 million (including auction premium) at RM Auction's recent sale at St. John's in conjunction with the Concours of America (formerly Meadow Brook).
Press release with lots of historical info on Ray Dietrich, Packard, Al Jolson and this particular car after the jump.
Estimate:
$950,000-$1,150,000 US
Chassis No. 900 245
AUCTION RESULTS: Lot was Sold at a price of $1,100,000
Model 1006. 160 bhp, 445 cu. in. side valve V-12 engine with three-speed synchromesh transmission, shaft drive with hypoid rear axle, suspension via four longitudinal semi-elliptical leaf springs, front beam axle, live rear axle, and four-wheel adjustable vacuum-assisted brakes. Wheelbase: 147″
– Owned new by famed American entertainer Al Jolson
– The ultimate Packard with 12-cylinder power, from the most desirable coachbuilder
– Known history and concours showings, including Pebble Beach award in 1963
– One of only two examples in existence; beautifully presented
Packard's Twelve was the signature car of the classic era: the top-of-the-line offering from America's leading manufacturer of fine cars. It was the Brooks Brother's suit of the time – a conservative car with finely tailored lines, elegant appointments, a refined chassis and a whisper-quiet, 12-cylinder engine.
In a sense, Packard's Twelve was never meant to be. In fact, the car's history goes back to the Cord L-29 and the great Miller-engined front-drive racecars. Packard's management was intrigued with the idea of front drive and commissioned the construction of a prototype. A decision was made to develop a 12-cylinder engine for this new car, as the shorter length of a V-12, compared with Packard's venerable inline eight, allowed more flexibility in packaging the front drive chassis.
Extensive testing revealed weaknesses in the front drive chassis' design, and anticipated development costs soared. Meanwhile, Cadillac had ignited the multi-cylinder race with their exquisite new 16- and 12-cylinder models, and Packard's dealerships were feeling the pressure.
The solution, born of necessity, created one of the defining models of the classic era: install the new 12-cylinder engine in Packard's proven Deluxe Eight chassis. The result was christened the Twin Six, in honor of Packard's first V-12, introduced more than 15 years earlier.
It is what many believe to be the ultimate Twelve. It was the last year for cars with flowing fenders and classic lines, before the advent of the streamlined look. The front ensemble is truly beautiful, with a graceful vee-shaped radiator and matching headlights and fender lights. And the dash is a work of art, looking more like a jeweler's display than an instrument panel.
Dietrich, Inc.
One of the most respected designers of the classic era, Ray Dietrich was also one of the most influential.
Like his future partner, Dietrich began his career as a designer at Brewster in New York. More than just a coachbuilder, Brewster was the Harrods of the trade, catering to America's leading families – many of whom had patronized Brewster's for generations in what was known as the carriage trade.
Young, bright and talented, Dietrich's skills were put to good use at Brewster. As a young man, however, he dreamed of more; he wanted his own company. He developed a fast friendship with Tom Hibbard, another Brewster designer, and together they began to spend their free time planning a venture together.
Unfortunately, one day in 1920 Brewster learned of the plan and summarily dismissed the pair. Forced to implement their plan sooner than expected, they were long on ideas but short on money. They decided to spend what little they had on a first-class location, and soon they were operating at 2 Columbus Circle, a prestigious New York City address that also housed the design offices of Fleetwood.
They named the new company LeBaron Carrossiers, because Hibbard was something of a Francophile, and they both agreed that the name sounded sophisticated. One of the interesting things about the new venture is that they chose to concentrate on design – and didn't even have a fixed relationship with a coachbuilding firm.
After a slow start, projects began to be awarded to the talented pair, but it was proving difficult to earn a living without the profits of body building. At about this time, the owners of the Briggs Body Company made a proposal; they would trade shares and merge the companies. The deal was consummated in 1923.
Just before the Briggs deal, Hibbard and Dietrich were approached by Ralph Roberts, a talented designer who wanted a job with LeBaron. In the end, they decided not only to hire him but to make him a partner as well, though his responsibility would be for business management, as the firm already had two designers.
At about the same time, Tom Hibbard went to Paris to look into the feasibility of establishing a European base of operations for LeBaron Inc. While there, he formed a friendship with fellow American designer Howard "Dutch" Darrin, and the two decided to create their own Parisian firm, and Hibbard and Darrin was born. Hibbard cabled Dietrich to give him the bad news.
In the meantime, Ray Dietrich had met Edsel Ford at the New York Auto Salon. The two hit it off together and what was to become a lifelong friendship was born. In the meantime, Lincoln became LeBaron's biggest customer, designing production bodies as well as limited production series customs for Lincoln chassis.
Eventually, Edsel Ford decided he wanted to integrate the design and coachbuilding business more closely with Ford's operations, and he encouraged Murray, Ford's largest body-building firm, to approach LeBaron.
Roberts didn't want to take the step, concerned about their partners at Briggs. While Dietrich seemed to share his concerns, after a visit to Murray in Detroit, he decided that he couldn't ignore the opportunity and cabled Roberts to tell him that he was leaving LeBaron to form Dietrich Inc., which would in effect become the design arm of Murray, with Dietrich owning 50% of the company.
Nevertheless, Dietrich Inc. still built a few custom bodies for the senior Packards, and these special cars have come to epitomize the ultimate in classic styling. Every line is exquisite, starting with the graceful v-windshield, continuing with the Dietrich trademark beltline and finishing with a superbly crafted top that makes the car look as good with the top up as it does down.
Al Jolson and his Packard
Born Asa Yoelson in the late 1880s in Russia, Al Jolson emigrated to America at the age of ten. His outstanding singing voice, along with his skills in dancing and acting, earned him the nickname "The World's Greatest Entertainer." Although he recorded more than 200 records, and appeared in dozens of films and plays, it was his role in The Jazz Singer, the first true talking movie, that made him a household name.
He often performed in "blackface," wearing dark makeup to give the appearance of an African American male. His best known roles performed in this now extremely controversial style were "Mammy" and "Swanee." His tremendous success soon made him one of the wealthiest men in Hollywood and allowed him to indulge his passion for fine automobiles. Jolson died in 1950 at the relatively young age of 62; his beloved Packard, however, is still going strong at 77 years old!
Jolson took delivery of his beautiful new Packard Twin Six Individual Custom Convertible Sedan, with coachwork by Dietrich, Inc., from Los Angeles Packard dealer Earle C. Anthony for the princely sum of $6,600. It was a truly remarkable figure given the timing of his purchase in the midst of the Great Depression, at a time when a new family car, like a 1932 Ford, started at just $410. In fact, a copy of the San Francisco Chronicle for Sunday, October 23, 1932 accompanies the car with a photograph of Al Jolson accepting delivery of the car with the headline, "Mammy, I'm a coming." The blurb underneath the elegant photo states, "Al Jolson of stage and screen fame has just taken delivery of this Packard Twin-Six Convertible Sedan from the Earle C. Anthony organization. Is he a proud owner? Just look at this illustration and the question is answered affirmatively you'll agree."
The car was very sporting, finished in grey with a dark tan leather interior and a tan top. As was to be expected, it was also very well equipped, with twin side-mounted spares with metal covers, chrome wire wheels, blackwall tires and a Packard's Goddess of Speed radiator ornament.
No records exist to show how long Jolson owned his magnificent Packard, although one journalist on the staff of the Los Angeles Times writes in February of 1965 that Jolson gave the car to actress Ruby Keeler. Regardless, it is known that the car suffered engine failure in 1940, after which it was stored in a Los Angeles garage until 1960 when it was purchased by Harold Crosby, who undertook a full restoration. It was during his ownership that the big Packard was exhibited at Pebble Beach for the first time in 1963, where it won best in class, American Classic Open, as well as reserve winner overall. Eventually, in 1968, Crosby sold the car to classic car dealer Leo Gephardt. Shortly afterwards, Gephardt sold the car to Packard enthusiast Ben Massell of Atlanta, Georgia.
Finally, in 1972, Massell sold the car to Bob Friggens of New Mexico, who owned the car for several decades until the vendor acquired the car earlier this year, making him the Packard's longest term owner at 39 years. In fact, Mr. Friggens and this car were featured in numerous periodicals, which accompany the car and document his absolute pride of ownership.
It remains in very presentable condition, benefiting from the many decades it has spent in both California's and New Mexico's dry climates, which have contributed to its wonderful condition and the preservation of the older cosmetic restoration work, including the paint and brightwork. There are numerous interesting features to the car, including of course the beautiful split windshield and rear-mounted trunk containing one suitcase. Smaller items include everything from a period-appropriate tool roll to a couple of original Packard ashtrays. Other fascinating artifacts include a war-era fuel ration sticker on the windscreen as well as a New Mexico inspection sticker from Friggens' ownership and even an original Earl C. Anthony oil change tag under the dash.
Today, the Friggens' Packard is eagerly anticipated, having been virtually unseen for nearly half a century. As one of just two of its kind remaining, few have even seen one, let alone had the opportunity to own or drive one. As a result of the auction here today, one more person will have joined that most exclusive club.
Please note, this car is titled by its engine number.