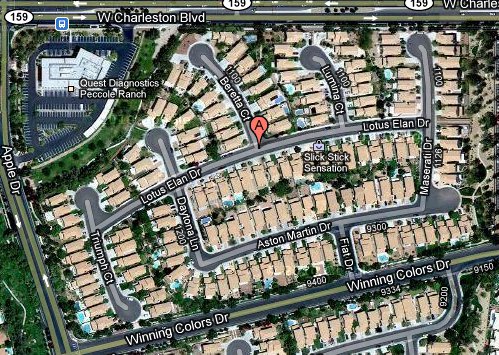 I don't know if we're going to make this a regular feature or not, but you can have lots of fun with the satellite and Streetview images on Google Maps. So far I've found remnants of Imperia's rooftop test track, and what's left of the Packard Proving Grounds' test track. I was looking for Lotus Elan parts, doing a global search on Craigslist, and one of the listings wasn't for Lotus car parts, or Lotus bicycles, it was for something else entirely, I forget just what it was, but my eye caught 9325 Lotus Elan Dr. What? There's a street named after my favorite car?
So I checked it out, and it appears that whoever developed the subdivision in the 1990s (there are Beretta and Lumina streets), loved cars. In addition to those street names and Lotus Elan Dr., there is Maserati Dr., Aston Martin Dr., Daytona Ln, and Fiat Ct. We already know that the developer liked British cars, so it's not clear if Triumph Ct. is named after the cars or the motorcycle. I don't know if that subdivision's developer named the larger road off of which the neighborhood is located or not but it's called Winning Colors Drive. Not sure exactly what kind of business "Slick Stick Sensation" is that Google Maps is suggesting. Perhaps they sell shifter lubricants. Las Vegas is home to the big SEMA show, after all.
If anyone living in Las Vegas wants to check it out at the county clerk's office, it'd be interesting to find out if the subdivision's official name is something like Automotive Heights. I have a friend who lives in Sterling Hts., Michigan in a sub that's called Tobacco Heights. All the street names are 1960s tobacco brands. He lives on Parliament.