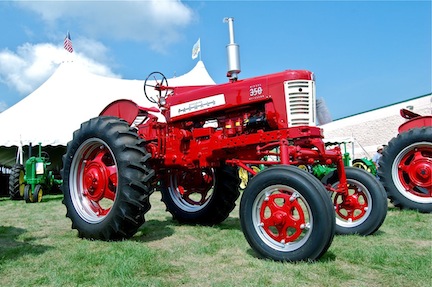 Mecum's first Gone Farmin' tractor auction was held last year and was successful enough to be repeated this year.  Some 300 tractors and other farm implements will cross the block today and tomorrow in Walworth, Wis.  Lest you scoff at the idea of anyone seriously wanting to buy a vintage tractor, consider that last year's featured lot, a 1954 Farmall Super M-TA diesel high crop, went out the door at $51,000.
The 2011 auction will feature the Estel Theis Collection, a lot of 31 John Deere's from various eras.  The oldest is a 1927 D with steel wheels and the newest is a 1959 830 diesel.  Theis was a working farmer from Savannah, Mo., who restored tractors as a hobby during the winter months.  He was considered a leading expert on John Deere equipment.
This isn't aerodynamic body fairing.  You're looking at a Case orchard tractor.  Though not especially common, orchard tractors are an important slice of the tractor market.  Useful in apple orchards, orange groves, etc., orchard tractors are smaller, narrower and fitted with special shielding to protect both the driver and the tractor from damage, and to protect the trees from damage from the machinery.
Tractor manufacturer Cockshutt also built machines for the Gambles hardware chain.  Both companies are now out of business.
This John Deere sports two fuel tanks, a main tank and a smaller supplemental tank, a common feature on early tractors.  Kerosene was far more common – and less expensive – than gasoline back then.  Tractors could run on either fuel but were much easier to start using gasoline.  Farmers would typically start the tractor off the smaller gasoline tank, then switch to the kerosene tank once the engine had warmed up a bit.
Who would thought there would be a Studebaker at a tractor auction?  (This really is a Studebaker.)
And just in case you think farmers are all work and no play, some enterprising hobbyist fitted this lowly Ford tractor with a Mercury flathead V-8.