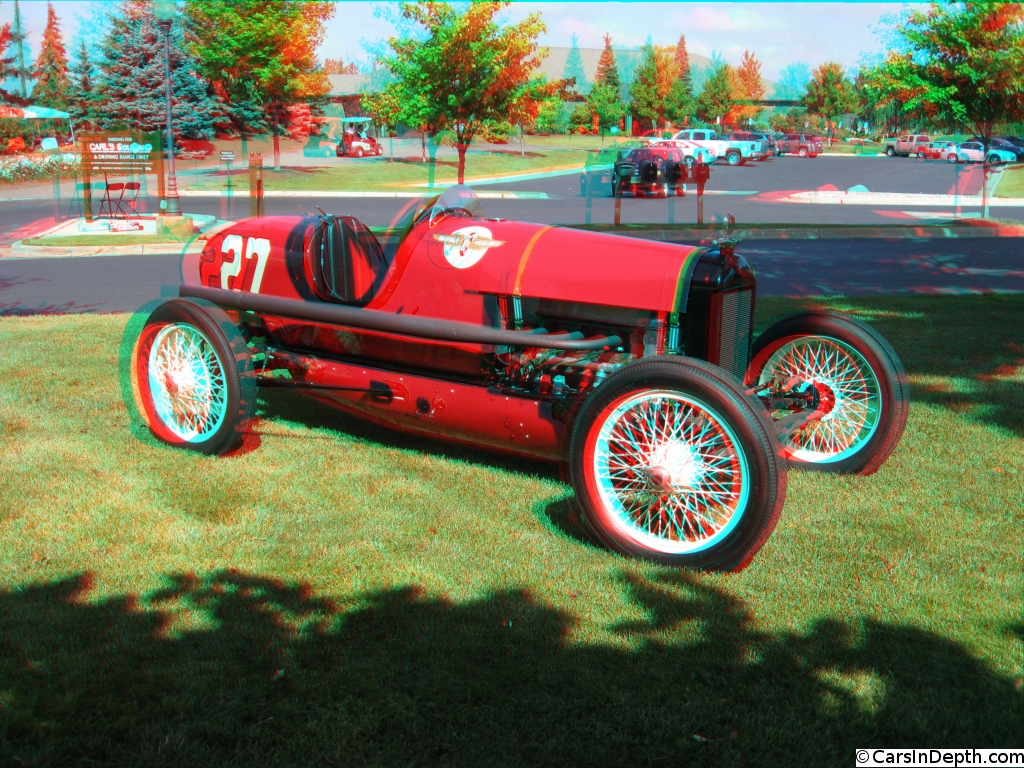 Click on the anaglyph stereo 3D image to launch a Flash player and view the entire gallery of photos in 2D or your choice of S3D formats.
That headline isn't a mistake. This is a Ford made by Chevrolet, or rather Chevrolets. Billy Durant put together General Motors, starting with Buick and quickly buying up other car companies, like Henry Leland's Cadillac and Oldsmobile. When he lost control to his bankers, he started a new company, Chevrolet, with the famous racer Louis Chevrolet as his front man and technical guide along with Chevrolet's brothers. Since they'd sold the rights to their own name, the Chevrolet brothers decided to use the name Frontenac when they decided to go into the business of making race cars. They were fairly successful at it too. Louis' brother Gaston won the 1920 Indianapolis 500 in a Frontenac and the car pictured here was one of three that entered and finished the 1924 Indy race.
This car was built for Ford Dealer, Barber Warnock of Indiana, by the Chevrolets and is based on a Model T chassis. The engine block is also from a Ford Model T, but it has an aluminum overhead cam head, designed by the Chevrolets. Fred Harder finished 17th in the '24 Indy 500 in this car, right behind another Frotenac Ford Special driven by Alfred E. Moss. Yes, that Moss, Sir Stirling's father. The highest finishing Chevrolet built Frontenac Ford Special that year was 14th, with Bill Hunt at the wheel.
Here are some historic photos of the #27 Barber Warnock Frontenac Ford Special and one of its sister cars racing at the Brickyard that are from the collection of the Henry Ford Museum:
In the pits at Indy, 1924

Pushing #27 off the track
Another Frontenac on the Brickyard's track in 1924