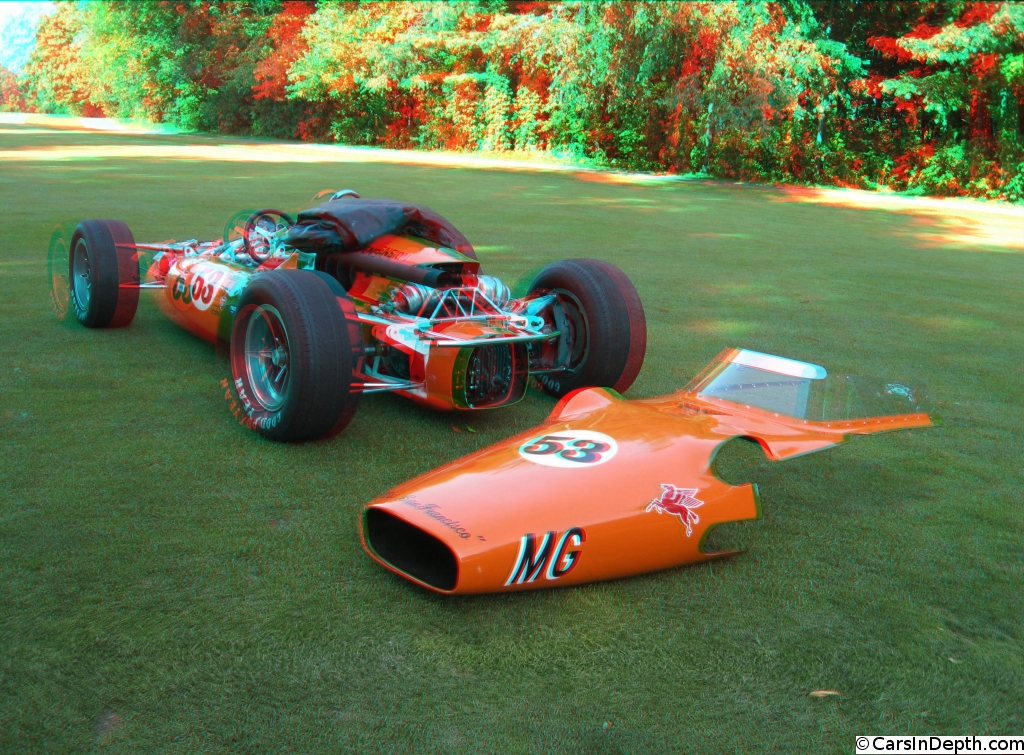 Click on the anaglyph stereo 3D image to launch a Flash player and view the entire gallery of photos in 2D or your choice of S3D formats.
The 1965 Indianapolis 500 was a historic race, won by Jim Clark in a Ford powered Lotus. That victory was the death knell for the Offy powered front engine roadsters that had dominated open wheel racing in the US for a generation. Clark and the then revolutionary mid-engine Lotus 38 weren't the only British imports at Indy that year, though.  This is the MG Liquid Suspension car, built by Joe Huffaker for the 1965 race. Team owner Kjell Qvale was a car importer and distributor with connections to BMC. That probably explains how "hydrolastic" suspension units that were factory equipment on the MG 1100 / Austin America and some Minis ended up on a race car at Indy.
You can see the units just behind the engine, apparently actuated by push rods. Hydrolastic was a suspension concept that linked the front and rear of the car with hydraulics. The idea was that when the front wheels hit a bump, the back end would raise up, giving the car a more level, less pitchy ride. Having driven an Austin America that my dad wasted money on, and having owned an MG1100 (donor car for my brother's Mini) I can say that BMC's hydrolastic suspension did indeed help give those small cars a smoother ride. How much it helped this race car is an open question since Walt Hansgen retired from the race with a fuel line problem after 117 laps and was credited with a 14th place finish. Hansgen was one of a number of racers who drove this car during its career, including A. J. Foyt.