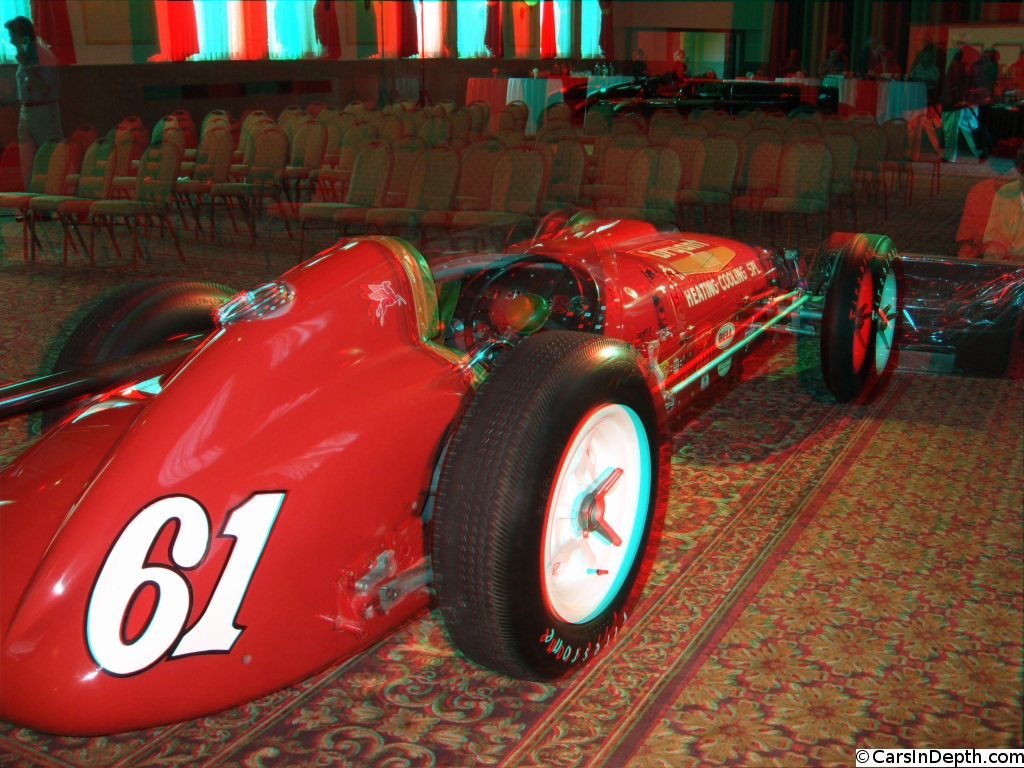 Click on the anaglyph stereo 3D image to launch a Flash player and view the entire gallery of photos in 2D or your choice of S-3D formats.
Frank Kurtis was one of the most prolific race car builders ever. Starting with midgets in the 1930s, the racers that he built wold define much of American open wheel racing for a generation and his influence continues to today in sprint car racing. One of his cars first raced at Indy in 1941, and ten years later he got his first win at the Brickyard in the Wynn's Oil Special with Johnny Parsons at the wheel. In much of the 1950s, Kurtis-Kraft chassis, usually powered by the Offenhauser engine, dominated the sport, taking half to two thirds of the starting grids at the Indy race. In all, Kurtis-Kraft made 120 cars that competed in the Indianapolis 500, with five race winners. In 1952, Kurtis built cars finished 1-7 in the race. In just ten years between 1947 and 1957, Kurtis cars gathered 18 podium spots, with those five wins, six second place finishes, seven thirds, as well as five fourths and nine fifths. Frank Kurtis could almost fill a traditional Indy 500 grid of 33 with those 32 top five finishes and also made over a thousand ready-to-run midgets and kits with more wins and top finishes than space would permit. For twenty years, Kurtis cars filled midget events. Kurtis has been justifiably inducted into a number of automotive and motorsports halls of fame.
After he retired from building race cars, from the 1960s into the 1980s Kurtis was a consultant to Lockheed, building and maintaining the special "start carts" used to start the engines on the SR-71 Blackbird spy plane. Each cart had two Buick Wildcat 401 CI 400 HP engines driving a common vertical shaft that was used to spin up the jet's turbines. Though the Nailheads were replaced by Chevy LS-7 454s in the 1970s, Blackbird crews still referred to the start cars as "Buicks".
Before Colin Chapman would break the mold with the revolutionary (for Indy car racing) mid engined V8 powered Lotus 38, Frank Kurtis' front engined turbocharged Offenhauser powered roadsters were the standard format for post war cars at Indy. As a matter of fact, the term "roadster" was jokingly given to Kurtis' then new design in 1952 by none other than the great Bill Vukovich. This car, in Bryant Heating and Cooling Special livery, number 61, raced in the 1958 Indy 500 and with Eddie Johnson driving finished the race, earning 9th place. This Kurtis roadster was shown at the Concours of America by Automotive News publisher Keith Crain.