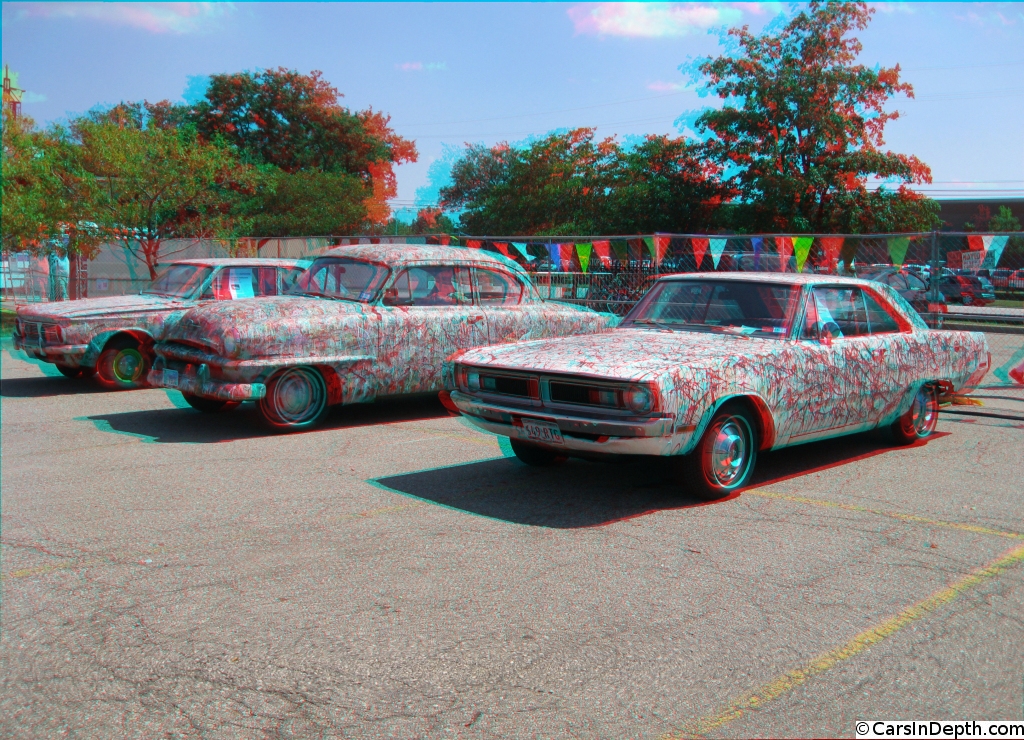 Click on the anaglyph stereo 3D image to launch a Flash player and view the entire gallery of photos in 2D or your choice of S-3D formats.
Matthew A. Donahue describes himself as "an educator, musician, music librarian/archivist, visual artist, writer, film-maker and producer." In addition to his academic pursuits teaching about American culture at Bowling Green State University, consulting to the Smithsonian, writing, and making movies, it appears that Dr. Donohue likes painting cars. We're not talking Earl Scheib and Maaco here, or even George Barris. Matt makes art cars. Yes, I know, the car culture's equivalent to mimes. In an earlier post I mentioned how I'm not particularly interested in drifting, though we'll cover it like any other car culture phenomenon. Art cars make me ambivalent too. While I appreciate whimsy, too many art cars, for me at least, seem to mock car culture and use the automobile as a symbol for evil and despoiling the environment. I'm not sure what exact message Matt is trying to get across by sequentially painting three old, older and yet even older Mopar products in red, white and blue in the style of abstract expressionist splatter artist Jackson Pollock, but I appreciate his choice of canvases.
Video after the jump.
It's clear from the Jackson Pollocktik project and his other art cars, including a couple of AMCs Matadors (both the swoopy odd looking "that's a Matador" Dick Teague quasi-masterpiece and the previous boxy one with the ugly odd front end) painted with images of LP records, that Donohue appreciates some cool old cars. Besides, I'd gone through considerable hassles getting to the Detroit Makers Faire and there were unfortunately very few exhibits of automotive interest, just a display from the automotive technology program at Washtenaw Community College, some historic automotive replicas from the Automotive Hall of Fame and the Henry Ford Museum (which will be covered in a later post), objets d'art from sculptors/recyclers Second Life Foundry, and Donohue's Jackson Pollockmobiles.
This is a music video for MAD 45 that features the Valiant:
This video is not Stereo 3D