This video is not in stereo 3D
Every Friday, for the start of the weekend we'll be featuring some kind of car related song. This week, it's the Beatles' turn. While John Lennon's psychedelic painted Rolls Royce Phantom V limousine is probably what most people think about when you say "Beatle car", all four of the fab guys had notable cars over the years, including Minis, Aston Martins and in the case of George Harrison, a collection of great cars. Paul McCartney composed Hey Jude using a tape recorder he had installed in his Aston Martin DB6. Ringo Starr drove a Mini with a Radford luxury conversion and a custom hatchback so he could load his drum kit. Harrison was a serious motorhead. His own Aston, a 1965 DB5 just sold at auction for a bit more than a half million dollars. Early in his career he insisted that a publicity photo have him at the wheel of a Plymouth convertible and later in life he followed the Formula 1 circus as it traveled the world. Harrison owned two Gordon Murray designs, a McClaren F1, painted in deep purple, that his family still owns, and a Light Company Rocket, a BMW powered track car. To keep things in an automotive vein, the video above features artist Arvin Pestaño digitally speedpainting a '60s Chevy to the soundtrack of the Beatles' Baby You Can Drive My Car.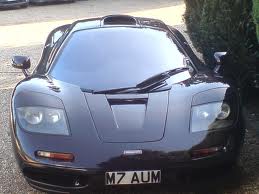 George Harrison's McClaren F1
More Beatles cars and Beatle car trivia below the jump.