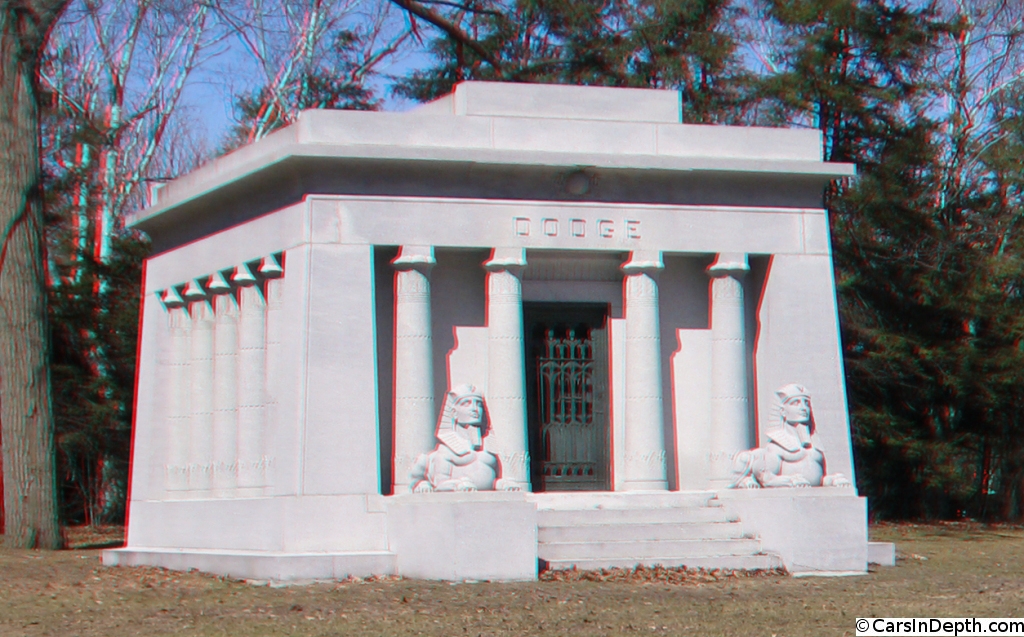 Click on the anaglyph stereo 3D image to launch a Flash player and view the complete gallery in mono 2D or your choice of S3D formats.
If you're coming to Detroit for the big Woodward Dream Cruise and you're wondering what else you can see in Detroit, well, for a car enthusiast it's Ur, Mecca, the center of the universe. We're going to be running a series of guides to things that we think car guys will find interesting. I have a strange sense of humor so we're starting at the end. Literally. The final resting places of automotive pioneers and personalities.
This is a very busy week, the Dream Cruise and surrounding events are this week so I'm going to be very busy shooting content for the site, and my niece is getting married on the east coast on Sunday. You know how to use a search engine, findagrave.com and Google Maps so please excuse me if I just list the famous guys and the cemeteries where they are buried. People who work in cemeteries know where the celebrities are, and they are very helpful in finding the grave you're looking for.
List after the jump.
Ford Family Cemetery – Joy Rd (named after Henry Joy, who ran Packard) near Greenfield, Detroit. It's a private cemetery right in front of the church that Clara Ford had built there after Henry died. Just open the gate.
Henry Ford
Historic Elmwood Cemetery – on Detroit's east side near the river
Henry Joy
Woodmere Cemetery – on Detroit's west side near the river
David Buick
Henry Leland (when I was there his marker was starting to deteriorate)
White Chapel Cemetery – Troy, north of Detroit near Big Beaver and I-75
John Delorean (there's a procession of Deloreans out to his grave every year during the Dream Cruise)
Michigan Memorial Park – Flat Rock, south of Detroit
Preston Tucker (Tucker and Delorean are the only automakers whose grave markers have pictures of cars. Make of that what you will.)
Holy Sepulcher Cemetery – Southfield, just north of Detroit
Fisher brothers
Walter Briggs (Briggs family built a large crypt directly facing the Fisher family's plot. They competed in life building car bodies and continued to compete in death)
Woodlawn Cemetery – Detroit, Woodward just south of Eight Miler Rd.
Edsel & Eleanor Ford (and two of their children – I think  it's significant that Eleanor did not bury Edsel in the Ford family cemetery)
Roy D. Chapin
George Holley
Harvy Fruehoff
James Couzens
Horace & John Dodge – their tomb is a reproduction of an Egyptian temple, complete with sphinxes.