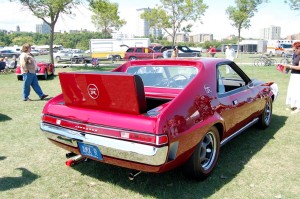 In the mid-1960s American Motors was desperate to shed its stodgy image and cash in on the youthful energy that was driving the rest of the automobile industry.   One product of those efforts was the 1966 AMX concept car, often referred to as the AMX "Vignale" for the Italian coach builder which built the running prototype for AMC.
The AMX concept fairly accurately presaged the styling of the 1968 Javelin and AMX but featured a whimsical rumble seat which turned the two-passenger coupe into a four-seater.  The open air rear seat was, of course, an affectation which would never make it into production.
Jim Jeffords, who lead AMC's Trans Am race team, had other ideas.
He liked the rumble seat idea so much that he asked the company for an early production AMX and permission to customize it to look more like the 1966 concept car.  Working with famed Milwaukee designer Brooks Stevens and auto customizer Dave Puhl, Jeffords produced the car you see here, the Jeffords AMX-R.
Jeffords used the car as a pace car and for publicity purposes and he seriously tried to persuade AMC to produce it, at least in limited numbers.  Seeing obvious safety concerns with the design, the company was cool to the idea.
Eventually Jeffords donated the AMX-R to the Brooks Stevens Museum and it has since been acquired by American Owners Owners Association president Darryl Salisbury who restored it and starting displaying it at car shows about six years ago.  The photo above was snagged at the 2009 Milwaukee Masterpiece Concours d'Elegance.