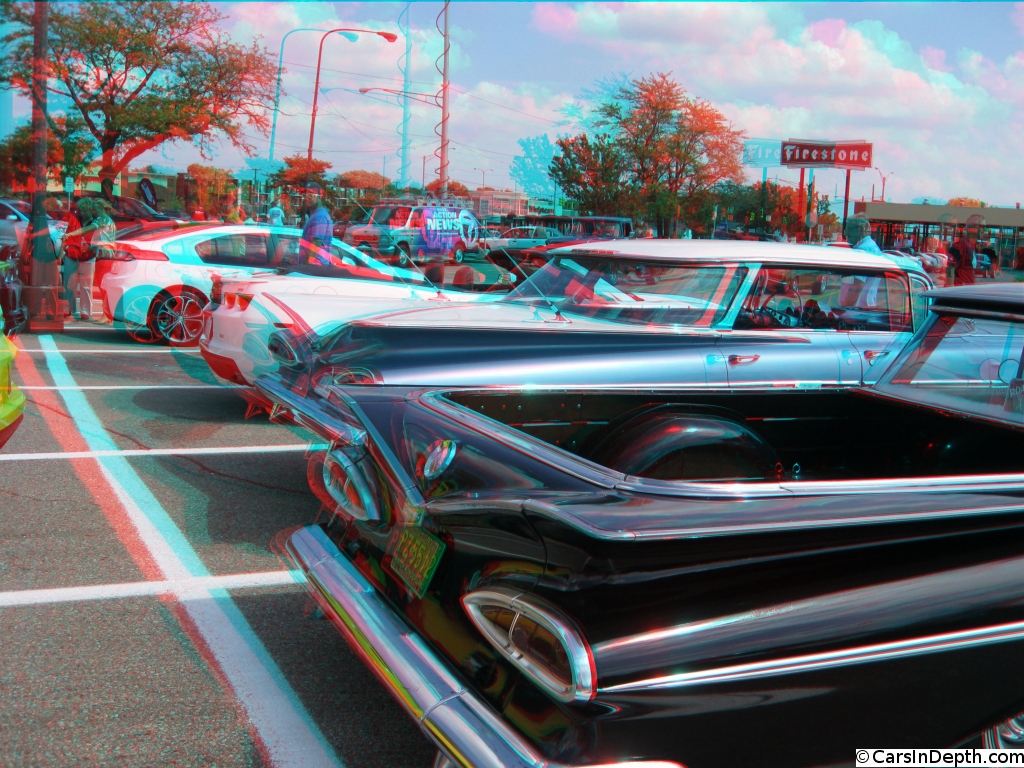 Click on the anaglyph stereo 3D image to launch a Flash player and view the entire gallery in 2D or your choice of S-3D formats.
Few cars more vividly demonstrate the late baroque period of Automotive styling known as Detroit circa the late 1950s as the 1959 Chevrolet Impala. Fins were getting out of control, chrome was used by the hundredweight, and you think Chris Bangle knew how to contour sheet metal just for effect? The '59 Chevys were most notable for those wing-like tail fins, taken from Chuck Jordan's Centurion Motorama car. There were, however, other radical features like the teardrop taillights, cantilevered C pillars, rear overhanging roofline and that rear window. By 1959, wraparound windshields were standard in the industry so Chevy introduced a wraparound rear window. My favorite touch is the huge Impala SS badge on the side of the car.
The '59 El Camino shared styling and most body panels with the two door version of the Impala, though it didn't have the wraparound window. I think the long bed accentuates those outrageous fins. The car-truck was on an air-bag suspension and its owner had slammed it for display. Considering that the '59's sheet metal and semi enclosed tires don't allow a wide stance to begin with, slamming the car, I think, isn't the best look for the truck. The El Camino and blue Impala were on display at the GM Design employees' car show on Wednesday. The white Impala was on Woodward on Friday, driven from Ontario.