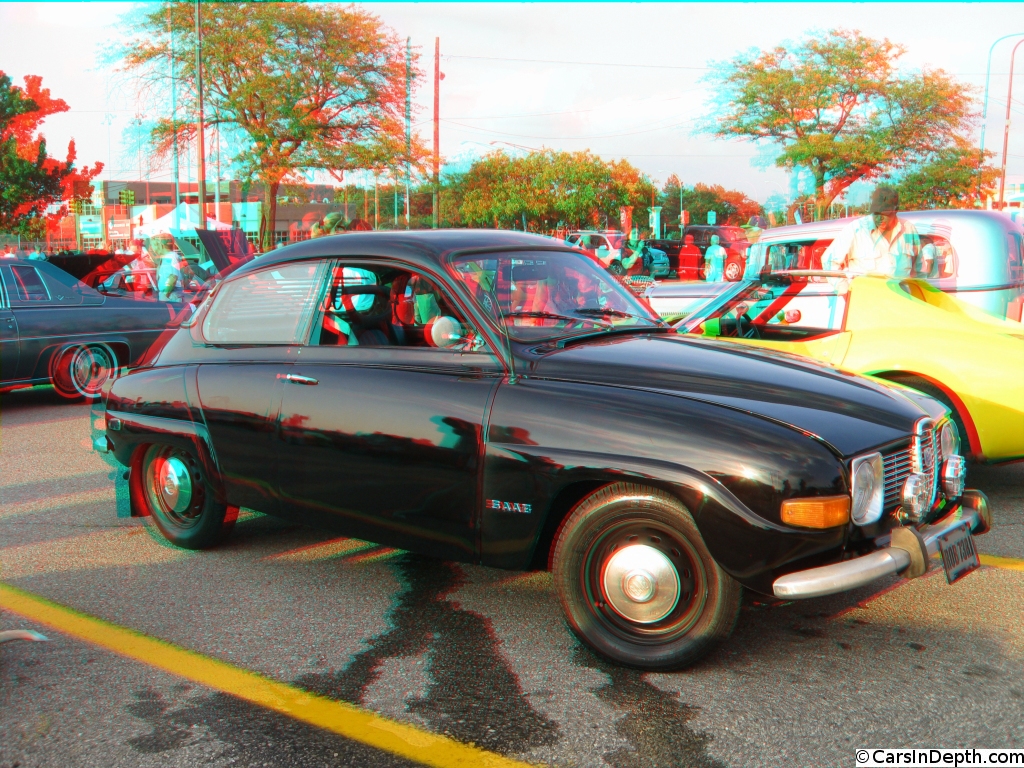 Click on the anaglyph stereo 3D image to launch a Flash player and view the entire gallery in 2D or your choice of S-3D formats.
Continuing with interesting non-American cars at the Woodward Dream Cruise, here is a very nice Saab 96 with some period rally lights. At a time that Saab is facing its demise in part due to mismanagement of the brand by General Motors, it's enlightening to see that Saab once stood for something besides being "quirky", whatever that means. Front wheel drive when more than 90% of cars were driven by the rear wheels, styling that is brand distinctive and truly aero long before the rest of the industry, driven by a quest for better fuel efficiency, used aero as an excuse to make visually interchangeable midsize Camcordatas, while being as structurally solid as a rock. I think the 96 could also freewheel, like old Studebakers.
In college, my friend David Haas drove a 96 around Ann Arbor that he inherited from his sister. I don't know if they use salt in Vermont, where David is from, but they sure use it in Michigan, which left the floorboards perforated. Since I knew how to do some rudimentary brazing and welding, David asked me to weld in some sheet metal to shore up the floors.  Well, shore up is a poor choice of words because I discovered that though the sheet metal in the floor was badly rusted, the rocker panels were as solid as they were when they left Sweden. They appeared to be made of laminated steel, with each sheet being about 1/8″ thick. Where it mattered, the 96 was overengineered.
Saab has never been a big company with substantial financial resources. The 96 was originally equipped with a 850cc three cylinder two-stroke engine because Saab didn't have the money then to make a 4 stroke engine. The two-stroke triple was replaced by the V4 that Ford developed for the European Taunus. I'm not a Saab expert but this 96 appears to be post 1966 so it probably has the V4. There is a Detroit connection to the Saab 96. Though the V4 was developed by Ford's Cologne, Germany operations, it was used in the midengine Mustang I concept that was important in the production Mustang's history.