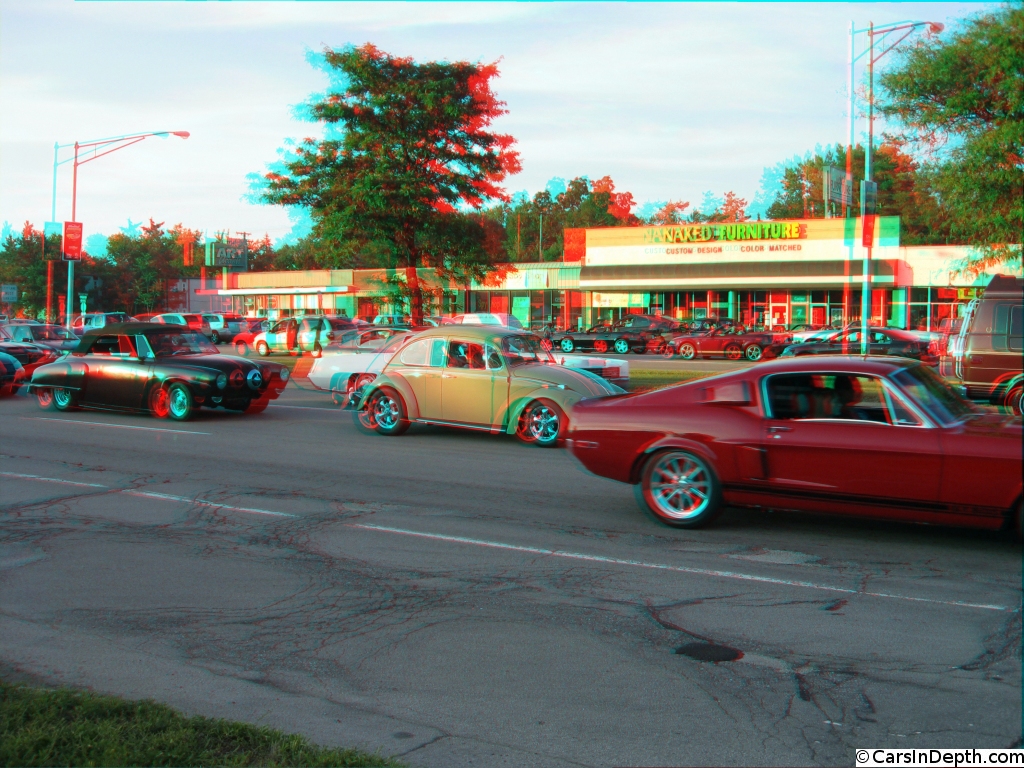 Click on the anaglyph stereo 3D image to launch a Flash player and view the entire gallery in 2D or your choice of S-3D formats.
Processing the shots from the *Woodward Dream Cruise I was presented with the choice of how to crop shots. Though I was trying to aim and focus at individual cars, while preparing the images I was struck by just how many interesting cars there were in the background and periphery of the cars that I was trying to feature. Woodward is four lanes in each direction, that's a lot of cars. To show you what I mean, look at this photo, focused on a slightly custom late '60s VW Bug in the middle of the frame. To be frank, I'm sure that I didn't notice all the cars in the shot when I took it, but I've cropped the image a few different ways to show you the variety of cars at the Dream Cruise. You can see all the different crops in the Flash photo gallery and a list after the jump.
There was that VW Beetle. In front of it is a '70ish Shelby GT500 Mustang. In the lane next to the Beetle, behind it, is a Cadillac Eldorado of approximately the same vintage. If I'm not mistaken that Eldo was one of Wayne Cady's designs. On the other side of Woodward, behind the Shelby is a more recent Mustang convertible, either late '90s or early aughts. In front of that Mustang ragtop on the northbound side of the boulevard is another convertible pony car, a third gen Camaro. On the left side of the image frame on southbound Woodward, coming up behind the Bug, is a bullet nosed Studebaker custom, also a convertible, though with its top up. Finally, just creeping into the image behind the Studie is a '71 or '72 Pontiac GTO.
*These photos were taken on Friday in the early evening.