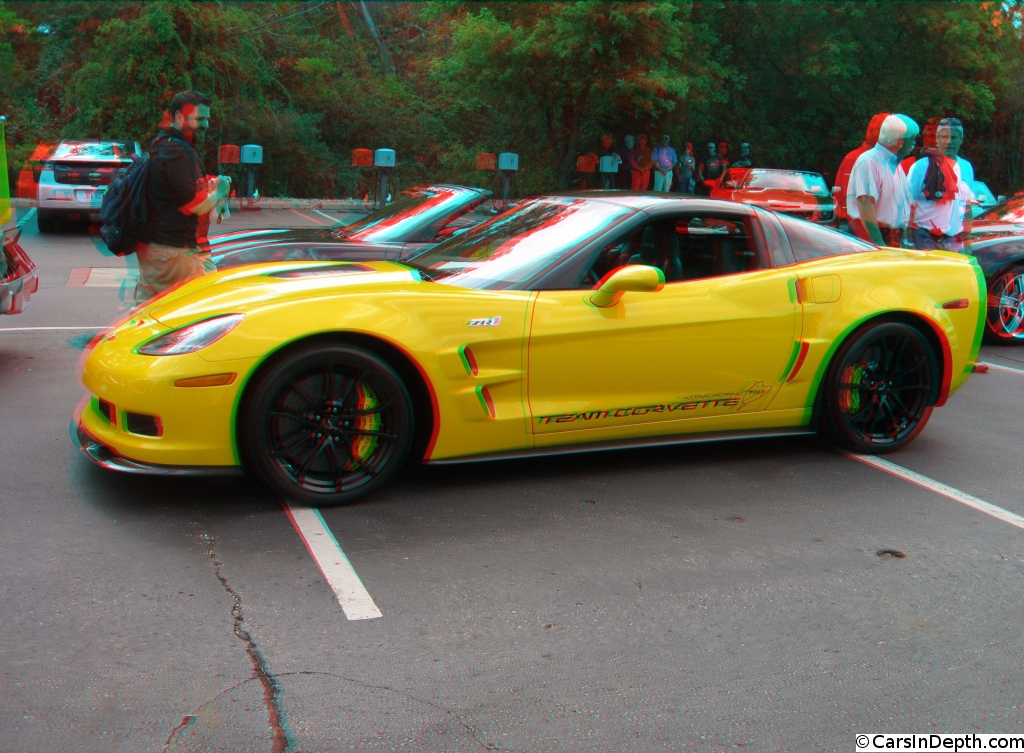 Click on the anaglyph stereo 3D image to launch a Flash player and view the entire gallery in 2D or your choice of S-3D formats.
The Nurburgring race track is one of the few places in the world where car companies can test their cars at 10/10ths on a public road. It's also become a point of pride by the makers of high performance cars to hold the lap record on the "nordschleife", the historic race course's northern loop, what Jackie Stewart famously called "the green hell". In June of 2008, to make the then new king of the hill ZR1 Corvette's mark, test driver John Mero set what was then a new lap record for actual production cars of 7:26.4. This year, the Corvette team returned to the 'Ring to see what difference the ZR1's new Michelin Pilot Sport tires would make. The 2012 ZR1 smashed the 'Vette's own record by almost 7 seconds: 7:19.63, a remarkable achievement. Of course, the bar is always being raised  higher. Since then the Porsche 911 GT2 RS (7 minutes 18 seconds) and Lexus LFA (7:14) have bettered the ZR1's time around the course, but the 911 GT2 RS is $245,000 and the LFA is $375,000 so the $110,300 ZR1 still represents an outstanding value in terms of performance. It can keep up with machinery costing 2 and 3 times its price. Unfortunately, as Pete DeLorenzo often points out, Chevrolet rarely uses accomplishments like this or the continued success of the factory Corvette racing team and their CR6 to promote the Corvette and the rest of the Chevy lineup to the general public. They'll make videos, like the ones below the jump, of the record attempts, and they do some merchandising with "Jake", the bow-t-eyed skull, but they really only get a fraction of the publicity mileage that they could if they made a better effort. Perhaps the fact that this car was part of the parade of 100 historic pace cars, GM "heritage" cars, and 50 owner driven Volts that Chevy organized in conjunction with the Woodward Dream Cruise is an indication that at least someone in Chevy marketing understands the publicity value of racing and record attempts.

Start the YouTube video player. Click on the red 3D icon that will appear in the menu bar to select 2D or your choice of stereo 3D formats.
Chevrolet produced videos of the 'Ring lap record runs after the jump.

2008 attempt:
This video is not in stereo 3D
Current lap record holder:
This video is not in stereo 3D