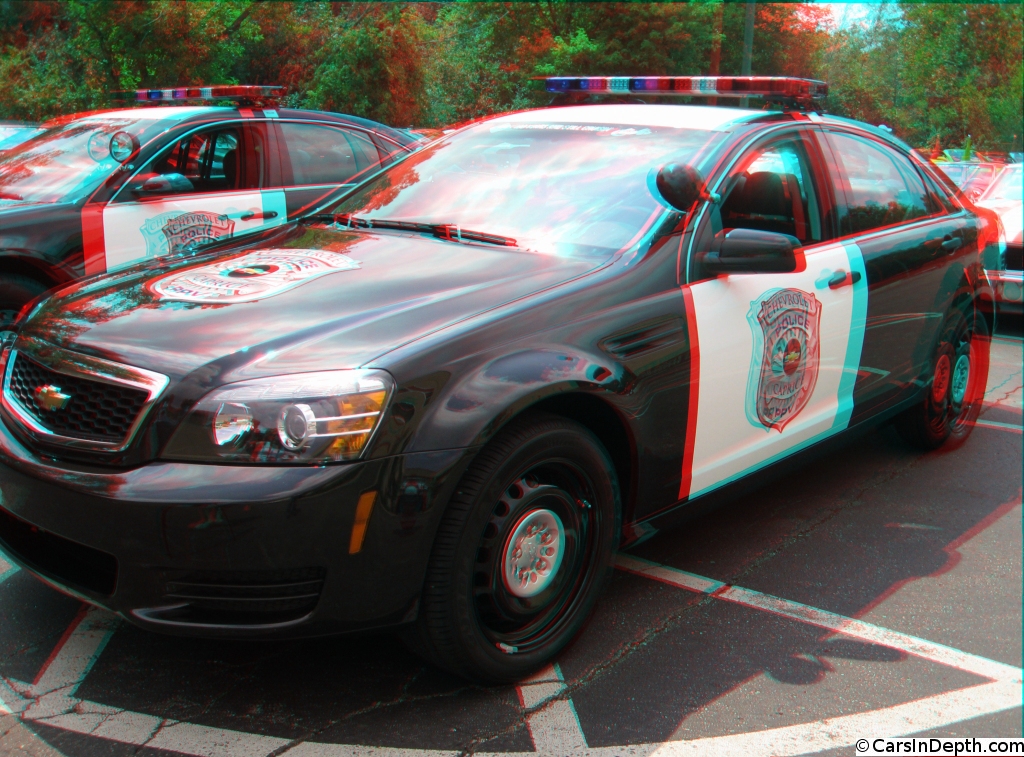 Click on the anaglyph stereo 3D image to launch a Flash player and view the entire gallery in 2D or your choice of S-3D formats.
Car companies rarely miss an opportunity to promote their products, which is why Chevrolet led off their centennial Woodward Dream Cruise parade with a couple of their "C91" models. C91 is Chevyspeak for their models designed and sold as police cars. Since the demise of the big B body fullsize cars, Chevy has only sold front wheel drive sedans and SUVs, hardly anyone's idea of cars with the cornering ability and speed required of emergency vehicles. Now that Chevy is launching the RWD Caprice PPV they want to make sure that as many potential customers see the car as possible, even if it's a niche market, albeit a large niche of people spending other people's money. Next to regular folks and the cars they come to see, perhaps the most common things you see at the Dream Cruise are police.

Start the YouTube video player. Click on the red 3D icon that will appear in the menu bar to select 2D or your choice of stereo 3D formats.
Using mutual aid pacts, the municipalities on the Cruise route call in cops from around southeastern Michigan. They say it's because they need the manpower to police the event, but the motorcycle cops travel in groups of 4 to 20, hardly an efficient use of manpower. It's pretty obvious that it's less about a need for manpower and more about cops cruising Woodward on the taxpayers' dime. For example, the Chevy parade had a police escort made up of about 20 motorcycles leading the parade and at least two cruisers bringing up the rear, when a couple of motorcycles in front and one police car in back would have been adequate. It's not just the rank and file. In Royal Oak, Berkley, Ferndale and other cities, the police will usually set up command posts on the islands in the middle of Woodward, which is a boulevard in Oakland County. With that many LEOs, including supervisors and chiefs working Woodward during the Cruise week, it made a lot of sense for Chevy to use the event to promote their new police car.